*Beep*
A text from my boss…
"Congratulations on your RTS award nomination. You deserve it."
Raised eyebrow…
"What are you talking about?"
Moments later…
"Oh my God!" I had been nominated for the Royal Television Society's Flying Futures Talent Award by my series producer on See Hear, William Mager. It was unbelievable. Then I pulled myself together, and asked myself 'Why is this so difficult to believe?'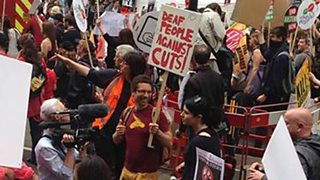 Filming deaf protesters for See Hear involved public order training for the team
Media is about communication, and as a deaf woman, hailing from a working class background, I probably don't fit the bill of what many consider as a 'standard media type'. But the mould must be broken – over 50 years ago it was difficult to get a media job if you weren't male, white and well-spoken.
This has now changed somewhat, but we can't sit back and let others take responsibility for that. We have to get out there and create change ourselves. Everything I've been able to achieve in my career is a result of my experiences – facing up to barriers, the prejudice of others, learning to overcome them, learning lessons early on, learning to adapt.
I hate being told I can't do something because I am deaf. I'm lucky: my hearing mother and the teachers in my primary school for the deaf were always telling me that I could do anything I wanted to do, despite what others may have said.
Catch Erika in this preview clip of what's included in the latest See Hear episode
There are ways around things, alterations that can be made, adaptations, if necessary. I prefer to make the decision whether I can or can't do something – rather than someone making the decisions based on the limitations they assume I have because I am deaf. We're lucky to be in an era where technology and media can combine to make access more possible, providing many different arenas for our talents.
My career journey has been varied and colourful, and while I never thought about working in the media, it feels so natural that I am here doing what I am doing.
Two years ago, I was hired by See Hear. Stretching back to 1981, the BBC's See Hear programme has provided deaf people with a unique opportunity to reach out regarding issues that affect our everyday lives: employment, education and health to give a few examples. It also raises the profile, visibility and awareness of our community – so I jumped at the chance of being involved.
As well as filming, having meetings, and doing the bricks and mortar research that is the backbone of any programme, I spend quite a bit of time on the phone, haggling for interviews (I am very persistent), gathering information, arranging meetings etc. My interpreters are an essential part of this, as they act as my ears and voice on the phone using a headset and interpreting– acting as a bridge between British Sign Language and spoken English.
For our next See Hear programme, I've been squeezing out information to untangle the complicated and highly confidential UN inquiry that the UK is facing into possible violations of disabled and deaf people's human rights.
I recently survived a public order training course with the Met Police: a whole day of dodging petrol bombs and ducking glass bottles being thrown at me. I've been on the streets of London filming deaf people protesting against proposed cuts as the programme investigates people's concerns about the new government's next five years.
And as for that prestigious nomination…?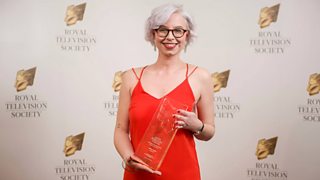 "E…r…i…k…a…J…o...n…e…s"
I was stunned. As the interpreter signed the winner's name – my name! – it took everything I had not to trip up on my way to the stage!
In receiving the Royal Television Society's Flying Futures Talent Award, I really hope that it shows that, even though I may be a young, deaf woman, I can do just as well as any other person.
Erika Jones is a researcher on See Hear and one of the presenters on See Hear Deaf News.
The latest episode of See Hear, season 35 is availble to watch in BBC iPlayer. For information on upcoming broadcasts, visit the See Hear website. Each episode will be available in BBC iPlayer for 30 days after broadcast on TV.
Comments made by writers on the BBC TV blog are their own opinions and not necessarily those of the BBC.