The Boy in the Dress: I was a bit nervous about working with Kate Moss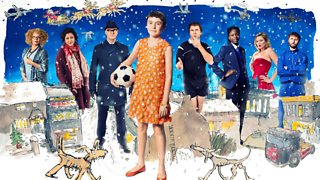 So a boy wears a dress to school... what's the worst that could happen?
Jennifer Saunders is very maternal
I had seen Jennifer's work before, as my mum is a fan of Absolutely Fabulous, and I had watched a couple of episodes with her. Jennifer was great to work with, and was very funny and kind. She was definitely the most motherly person in the cast, and even gave me some tips on how to keep serious when filming a funny scene.
Meera Syal likes to sing
Meera was really fun to work with, too and entertained us all singing Christmas songs off set.
Steve Speirs gives great hugs
I really got on well with Steve, who plays my dad in the show. The first day that I met him in the read-through he greeted me with a big hug. I found it easy to do the family scenes with him because I felt close to him already.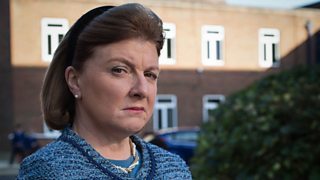 The fearsome Miss Price checks school uniform standards at the gate
Felicity Montagu looks exactly the same as she does in Alan Partridge
I had seen Felicity - who plays school secretary Miss Price - in the 2013 Alan Partridge film. She even looked the same which was a bit strange! The real Felicity was very smiley on set even though she plays a very stern character.
Tim McInnery does serious very well
I hadn't really seen Tim do much comedy acting before. I had only seen him in the film Johnny English Reborn, where he plays a goodie, but my mum and dad knew lots about him from things like Blackadder. So it wasn't weird for me seeing him play a serious character – I thought he was very convincing at playing Mr Hawthorn, the school's headmaster.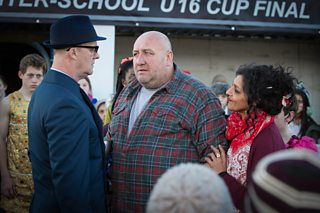 Showdown! Super strict headmaster Mr Hawthorn (Tim McInnery) vs. Dennis' dad (Steve Speirs)
David Walliams is very supportive

David, who wrote The Boy in the Dress, was always encouraging. I really enjoyed working with him. I know he does a lot of comedy acting and he plays a funny referee character in the film.
Kate Moss is very chatty
I was excited as well as a bit nervous about working with Kate Moss. But she was very nice and easy to talk to and I liked filming the scenes with her.
James Buckley is a real laugh
It was really hard to keep a straight face on set with James, who plays PE teacher Mr Norris. He was very funny delivering his lines!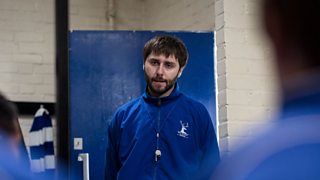 Playing an actual grown up, Inbetweeners star James Buckley provided laughs on set
Temi Orelaja was fun in the dress scene
I think Temi – AKA Lisa - and I got on great. My favourite filming moment with her was when we were walking into the school with me in the dress to the music.
Aaron Chawla and Oliver Barry-Brook are great real-life friends
I got on really well with Aaron, who plays Dennis' best friend Darvesh. We became good mates off set as well. We often shared a trailer so we had plenty of time together. I also had loads of banter with Oliver, who plays Dennis' brother John. I think that helped us bond well as brothers in the film.
Sonny Ashbourne Serkis has good footy skills

In my opinion the best football player in real life is Sonny, who plays football captain Gareth.