Everything I've learned about DS Arnott in Line of Duty
He's the serious, sometimes sneering anti-corruption cop who's been known to bend the rules himself. So as Line of Duty series three begins, we ask - what does actor Martin Compston really make of his character?
Romance has been a bit of a grey area…
Steve sees himself as not really doing anything wrong, dating witnesses and so on, because he's not breaking any laws. But it does get him into trouble and he really shouldn't be doing it.
But in this series he seems to be the most settled out of the team. Ted Hastings has still got his own issues, we know Matthew 'Dot' Cottan's got some private thing going on, and Kate Fleming's separated from her family.
So at the start of the series we see Steve is definitely a lot more settled and seems happy. He really does love his job and he's living with a woman he seems to get on with so when we find him he's in a good place.
He knows when something is off…
In the case we follow in this series, from the very off something feels wrong to Steve. And I think as the series goes on he starts to learn there's more to Daniel Mays' character, Sergeant Danny Waldron, than meets the eye. The way the series starts is explosive, and with that Steve just knows that something isn't here in what they are saying, they are lying about something.
He's grown to love AC-12…
At first joining the department was a big problem for Steve. He thought it was in some way a demotion. But now I think Steve loves his job. He sees that there's a real purpose to it. And they are still catching criminals, they're just wearing a uniform. There's no distinction – breaking the law is breaking the law.
This series I say the line: "Easiest way to get away with killing someone - be a police officer". It's a great line but that was my first scene of the new series. You know when you're like 'Ah, how could they?!' because it's such a good scene but you want a couple of days to find your feet and find your character again, and we were straight in with that.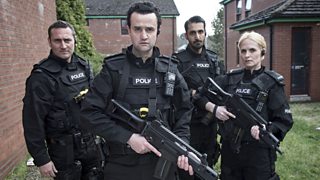 Danny Waldron (centre) leads his team into a questionable situation in episode one
He admires Hastings and Fleming enormously…
Hastings became a bit of a father figure to him and I think Steve admires his integrity. He's got a lot of personal issues but he's convinced Steve that this is a job worth doing. I think he could see himself heading up to Hastings' post and taking over the department – I think that would be in his head.
With Kate, I think he's just got a kindred spirit. He admires her tenacity. And it's probably mirrored in real life as well, Vicky McClure has become one of my best friends and we just help each other along. Steve and Kate are at each other's throats a lot, but I think you find throughout all the series that when they need someone the most, it's always the other one that turns up.
And Vicky's just a great laugh to be around. I think me, her, Craig Parkinson and Adrian Dunbar have become very close over the last couple of years and we're a very close gang. When we all live together - our flats are all next door to each other for like four or five months, so we take turns at cooking every night and running lines every night.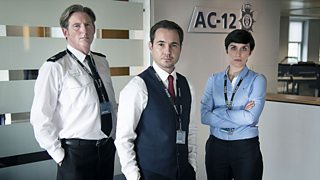 It takes concentration to get through the interview scenes…
When you get the script, you can either be intimidated by the police language it or face it, and Danny Mays just went for it hell for leather, he was great. I read he said recently that those were some of the most difficult and the most rewarding scenes he's ever done and there's definitely a sense of that. It's hanging over you and you do lose a few hours' sleep at night when you're thinking about those scenes at times.
Those scenes are so long but you have to keep a pace and we run it a few times straight through it because you have to find the rhythm of where the depths are in the scene. So there are takes that are 20 minutes long or even five minutes long, and the poor boom guy holding that thing over your head..! It's a tough day for everybody – we've all earned a pint at the end of it.