The Game: What is Joe Lambe really about? Tom Hughes explains
Brooding, intelligent and wily – The Game's MI5 spy Joe Lambe has mystery written all over him. So just what lies behind Joe's mask, and who is he really? We ask actor Tom Hughes to delve a little deeper into the agent who we can't quite work out…
My character in The Game, Joe, is an enigma. And it is that exact quality which allows him to be good at his job, but it's also his defence mechanism.
It allows him to keep his distance from people. It allows him space. It's a necessity for him as his life has forced him to trust no-one, particularly those closest to him, as he has had his fingers burned one too many times.
But it is also a beguiling quality, it means there's a certain intrigue about him, and that is what makes him such a good spy. He keeps people guessing, keeps them on the wrong foot.
For me, it was the main attraction of bringing him to life. It's a big challenge as an actor, to find a way of allowing him to remain at all times both enigmatic and intriguing to an audience, without being so distant that they don't feel like they know him.
You're asking an audience to connect with his story in a far more visceral way - through sensations rather than an intellectual explanation of his state of mind.
The job is a game to Joe. He has no ambition, he never had a desire to be a spy, and isn't attracted to the apparent glamour of the job. He cares little for patriotism, in fact he cares little for anything in this world.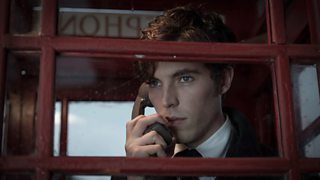 Set in 1970s London, The Game was actually filmed in Birmingham
But he has been forced, throughout his life, to learn how to manipulate his own emotions to protect himself from showing any vulnerability. He's perfected the art of lying and manipulating the world around him and, more importantly, lying to himself.
He's near perfect at it, and like any perfectionist he has a keen eye for spotting other people's weaknesses, faults and mistakes.
He knows when people are lying, almost before they do. He sees the games they are playing. He sees the ridiculousness of the world they are in. So to him it is just a game. A game of lies. The real battle in Joe's life, the real war, is with himself.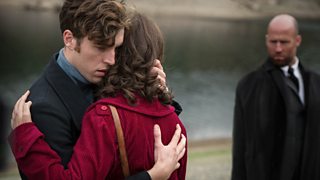 The only time in Joe's life when he allowed his guard down was when he met a defecting KGB agent, Yulia. She had a profound effect on him, and taught him to trust again in the idea of love.
With the arrival of The KGB's Odin in Joe's London surroundings, he is reminded of Yulia and everything she meant and represented. Joe's need for revenge starts to take a hold over him. All the deep emotions Yulia helped Joe to connect with begin to bubble to the surface. You start to see the real him, the man he could have been.
Joe is lost, bitter, anxious, obsessive, idealistic, passionate, desperate - and ultimately alone.
Tom Hughes plays Joe Lambe in The Game.
The Game starts on Thursday, 30 April at 9pm on BBC Two. Each episode will be available in BBC iPlayer for 30 days after broadcast on TV.
Tom's byline picture is from Who's In Today? – See other celebrities snapped as they visit the BBC HQ in London.
More on The Game
BBC Writersroom: Toby Whithouse on creating the Cold War drama
Comments made by writers on the BBC TV blog are their own opinions and not necessarily those of the BBC.