QI: A day in the life of a QI Elf
This year is QI's 12th series, which means that we're looking at all things L. I'm a researcher, otherwise known as a QI Elf, and along with the other elves I've spent the past nine lunar months leafing through large literary lexicons, learning long lost languages, lurking in lugubriously lit libraries, leering at lewd likenesses of Lucretius, lambasting loose logic, listing this ludicrous litany of L-words... you get the idea.
Puffer fish impressions: Episode one looks at the largest and littlest of animal life
A typical day of making QI starts early. The studio has to be transformed from an empty room to the fully functioning, perfectly lit iconic QI set, complete with the huge screens, buzzers, scoring equipment, and klaxons. The entire studio floor gets a fresh coat of paint every morning, and the set is constantly touched up throughout the day to remove any unsightly blemishes that could show up on HD. Stephen and Alan are also freshly laminated for each episode to give them an extra sheen.
Each show gets two technical rehearsals to make sure all the pictures and klaxons are working properly. The QI Elves play the part of the panellists and try to set off every single forfeit before going to lunch with slight headaches.
At 2pm precisely, Stephen emerges from his dressing room for the second rehearsal, having assimilated an entire script of information in an astonishingly short time, during his Special Secret Preparation Ritual Which Must Not Be Disturbed (we just wait outside quietly and periodically slip pages of the Encyclopaedia Britannica under the door). By the end of the afternoon, we have a completely clued-up Stephen ready to take on three panellists and the apparently clueless but intuitively intelligent Alan Davies.
Meanwhile, a growing crowd of dedicated QI fans has been growing outside the studio.
Cameras start rolling at 7.30pm, and each recording can be up to two hours long. This eventually gets edited down to the 30 and 45 minute shows - which means that only about 20% of the facts we unearth actually make it into the final show. The extra material finds its way into one of the QI books or on the QI Twitter feed - and we put up bonus material for each episode on our website, too.
This year, Stephen and Alan will be joined by everyone's favourite QI regulars including Jo Brand, Bill Bailey, Sandi Toksvig, Phill Jupitus and David Mitchell, as well as some new faces – Aisling Bea, Lucy Porter, Adam Hills, Carrie Fisher, and the lusciously 'litterative Lloyd Langford. The full line up is listed on our website.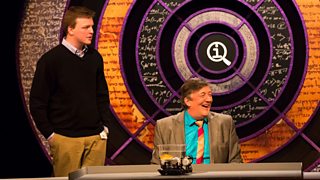 QI Elf Alex Bell on set with Stephen Fry and Alan the QI gold fish
But the real star of Series L will be Alan the QI goldfish, who will be making his television debut in the L-Animals episode to wow the audience with his driving skills. Some other 'Larks' to look forward to include a quantum-locking levitation effect, and another round of satisfyingly dangerous fire-based demonstrations lined up for all the pyromaniacs out there.
We might have finished making Series L, but our work's not over yet. Each Friday from 10pm, when QI is on BBC Two, one of the QI Elves will be foregoing an evening of hardcore clubbing to host a live Ask An Elf session online - so head over to qi.com if you have any questions!
Alex Bell is a researcher on QI.
Series L of QI is on Friday, 3 October at 10pm on BBC Two and BBC Two HD. For further programme times please see the episode guide.
Comments made by writers on the BBC TV blog are their own opinions and not necessarily those of the BBC.