Susan Jebb is Professor of Diet and Population Health in the Nuffield Department of Primary Care Health Sciences at the University of Oxford.
She will be answering questions live in the comments below after episode two of What's The Right Diet For You? A Horizon Special.
The comments will open shortly before the Q&A starts at 10pm on Tuesday, 13 January and will finish an hour later at 11pm. Susan won't be able to answer every question submitted and we also ask that questions and comments fall within the house rules.
Update: The Q&A is now over, thank you for all your comments. To read Susan's replies please see the Editors' Picks below.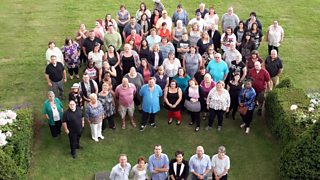 Expert Paul Aveyard pictured left of Susan is joined by presenters Chris van Tulleken and Tanya Byron, experts Giles Yeo and Fiona Gribble and all the volunteers