As 18 brand new candidates iron their sharpest suits and prepare their most cliched lines, The Apprentice superfan and BBC Radio 1 DJ, Matt Edmondson shares everything he loves about the nail-biting show.
What do you think would happen if you asked Lord Sugar to play Plank All Over Me with you on Radio 1?
I think I would be quickly and rapidly removed from his presence! In the unlikely event that he was up for it, I would relish the opportunity. Could he last the full three minutes? I'm not sure - although I don't think I'd want to be the person to tell him that he hadn't made it in to the hall of fame.
Which past Apprentice contestant would you hire as a motivational speaker and why?
Raef Bjayou, the posh, floppy-haired chap from series four. I've met him a few times and he is the most charming man imaginable. I'm pretty sure that he would be excellent at motivational speeches, in a sort of Hugh Grant, foppish way. He did once famously say: "The spoken word is my tool".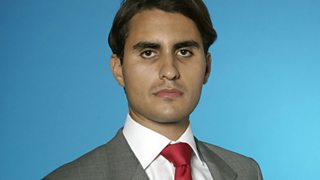 Unsurprisingly, public speaking is one of Raef's current pastimes
What tips would you give to new advisor, Claude Littner?
Just to be himself, and by that I mean be a ruthlessly hard man to please. He's always been my favourite contributor to the interview stages, as he takes no nonsense and can spot a liar a mile away. He has an excellent eye for detail, and I think that will come in handy when separating fact from fiction in the boardroom.
If you could set the candidates any challenge, what would it be and why?
I'd quite like a challenge where they have to put on an entertainment night at a holiday park or something similar, just to see if they have any hidden talents!
Name one person – in any walk of life – that you'd love to say: 'You're fired!' to. Why?
I'd love to be able to say it to the lady at the cupcake stand near Radio 1, as I am forever tempted to swing by and pick up another delicious treat. If she wasn't there, the temptation would be removed!
Snog, marry or avoid: Karren, Alan and Claude?
Snog Karren, marry Alan for the money and avoid Claude. Surely it's the logical choice?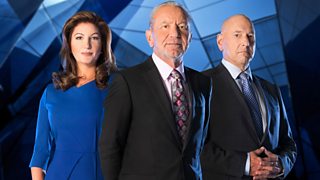 Karren, Alan and Claude are looking for 'a complete all-rounder'
What's your favourite-ever contestant catchphrase from past series?
I like Ricky Martin's "I am the reflection of perfection", simply because it's a great rhyme. I can see it being printed on a T-shirt. Also, Susan Ma seriously asking: "Are the French very fond of their children?" still amuses me.
Which candidate from past series would you most like to challenge to a rap battle and why?
It's got to be Michael Sophocles, if only because he'd be delighted to be back under the spotlight! I think his rap game would be as good as his The Apprentice game.
Which new series candidate has already caught your attention and why?

I'm slightly obsessed with Joseph this year. I watched his audition tape and he is certainly a character. I can't wait to see more of him as the series progresses!
Why do you love the show so much?
I love getting to know all of the candidates, and I love seeing their huge egos clash on the most basic of tasks. I get really in to it.
Matt Edmondson hosts The Apprentice: Meet the Candidates, available to watch on BBC iPlayer until 8am on Thursday, 5 November.
The Apprentice, series 11 starts on Wednesday, 14 October at 9pm on BBC One. Each episode will be available in BBC iPlayer for 30 days after broadcast on TV.
Comments made by writers on the BBC TV blog are their own opinions and not necessarily those of the BBC.