In September of 2002 my agent called and said I'd been asked to go and meet the producers of a show called Doctors. I must confess I'd never seen it, so I sat down and watched the show, trying to familiarise myself with the characters.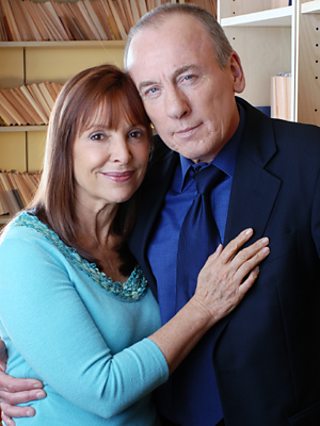 Immediately, I realised that the main character (Mac) was played by the actor Christopher Timothy. We'd first met when we did a film together, Here We Go Round The Mulberry Bush. I was offered the part of Julia, Mac's ex-wife, and told the character would be in the show for three months.
Almost eight years later, I'm still doing the show and Julia has certainly seen some changes both in her personal and professional life. Over the years she's remarried Mac, lost him again and gained a second surgery - I know which one I'd rather have!
She's been accused of blowing up the old surgery, been in prison, been almost strangled to death by a boyfriend, opened a super practice involving two separate surgeries, moved house and been proposed to by one of the most gorgeous guys on the planet (actor Ray Fearon) and turned him down! What was she thinking, the soppy twit! I mean how many times is THAT going to happen!
On a more personal note, I've watched as Doctors has grown up into a fully fledged stand-alone drama, garnering awards all over the place including best storyline for Vivien's rape at The Soap Awards last year, as well as best single episode at The Soap Awards in 2004, 2007 and 2009, best newcomer at the Soap Awards in 2005, and Michael McKell won best actor and I won best actress at the Royal Television Society Midland Awards in 2008.
It's not bad for a half hour daytime show which has never been actively promoted in a very big way and functions on a tiny budget. That means that all you guys out there who are so loyal to the show have helped, in no small way to make this possible.
I've been lucky enough to have had the opportunity to work with some wonderful, talented actors while doing this show. Some are very well known indeed. This week I'm filming a big storyline with Susannah York, and people like Sylvia Syms, Eric Sykes, Brian Blessed and Barbara Dickson are just a few others who I've been lucky enough to appear with.
I remember the time Barbara came in to play one of Julia's best friends. We were filming in a rather dingy bar in the centre of town and the only place we could sit in-between scenes, wrapped in several layers of blankets because it was the middle of winter, was the loading bay next to the rubbish bins - how glamorous is that?
I also get to work with the best bunch of people in the world. The crew, the people in the production office, make-up artists, costume designers, writers, producers, runners, the art department and many, many more that make up the whole unit, not to mention the regular actors in the show.
In fact we all have lots of laughs every day. To be honest, if we didn't I don't think any of us could sustain the long hours and often trying conditions that we have to film in.
I remember one day in particular when Chris and I were filming all day in a sauna and spa. For some reason we both got the giggles so there were more retakes than there should have been and, consequently, when we finally got out we were both wrinkled like prunes which made us laugh even more, which resulted in even more retakes.
It's being part of such a close-knit team that makes it all possible. Nothing is ever what it seems and because we work three months ahead, we often find ourselves filming a summer scene, in summer clothes in the middle of January, in a snow storm and standing on three inches of ice!
Whenever I get some time off, I travel. It's a passion of mine and the extraordinary thing is that wherever I go in the world, people know me and tell me that they watch Doctors because this show is syndicated and goes out on BBC Entertainment (previously BBC Prime) in dozens of countries all over the world.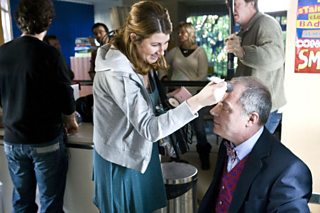 One lady who lives in Zambia said that because they get so many power cuts there, she was missing the show so she went out and bought a generator, costing huge amounts of money, just so that she wouldn't miss any episodes! Apparently, all her friends go over to her house to watch the show. How's that for dedication?
During the 10 year run of Doctors some big events have taken place. Pebble Mill Studios was pulled down six years ago and we moved to the BBC Drama Village at the University of Birmingham. The transition was seamless and the show carried on as normal with a new surgery and new surroundings.
Three years ago it was decided that we would run through the entire year instead of being taken off for during the summer. This meant we needed to produce more episodes a year, 234 to be exact, so as there are only seven days in a week, the only way was to extend the days in order to shoot longer. Hence the advent of the dreaded triple banking.
That means three separate crews shooting three half hour episodes each, all filming at the same time! Yeah, I know, it takes some doing to remember where you are in each separate storyline, while shooting nine episodes at any given time and out of sequence, but we eventually got the hang of it.
Triple banking equals speed, so I guess we are allowed to feel proud of what is delivered to your screen five days a week, especially this special 10th birthday week. Here's to the next decade of Doctors!
Diane Keen plays Julia Parsons in Doctors