The Great Comic Relief Bake Off: Dame Edna and Jameela Jamil are the messiest bakers
Quite often the celebrities on The Great Comic Relief Bake Off haven't baked very much at all so as the food producer on the show it's a case of being really encouraging and working with them on their recipe ideas.
I also work with the home economists to make sure that the celebrities have all the ingredients and equipment they need - within reason - we don't supply equipment that home bakers wouldn't have. Then on the filming days I help set up the food and equipment and make sure that the process of each recipe is filmed and that the producer/directors are asking the celebrities the right questions at the right points.
At various points all the bakers appeal for help or advice - and even though it's natural to want to be helpful, you have to leave them to it. It's a delicate line to walk. Of course we run around bringing them spatulas and extra ingredients but when they need help during the actual bake with their recipe they have to be left to their own devices.
Whisk like billio! Creme patissiere dramas hit Zoe and her fellow bakers
I know the recipes – which the celebrities send to me in advance - and so I try to anticipate when and where things might get tricky - shaping, rolling, turning out of tins and assembling are usually scary times for everyone. It is difficult because sometimes I need eyes in the back of my head, so that we make sure the camera operators capture all the drama.
It's so difficult to choose who was the most skilled! I loved Gok Wan's style, precision and his determined attitude. His chocolate work was amazing. Abbey Clancey's cupcakes were really pretty, Jonathan Ross was hugely brave and ambitious with his showstopper. He was just having a great time and baked with such fun and good grace.
Zoe Sugg's cupcakes tasted and looked great. I think she did an admirable job with her bakes – it's stressful in the tent, it's an alien environment and there's a strong element of competition.
I think Gok was the most competitive, but he is also the sweetest man in the world so that's fine! Michael Sheen was also massively competitive – and freely admitted it.
I really loved Jennifer Saunders' sense of fun and her inventiveness with her bed cake in episode one. I had so many 'pinch me' moments in the tent – that was a really life-enhancing episode!! I particularly loved working with her, Joanna Lumley, Lulu and Dame Edna - who was spectacular - funny, messy and endearing! It was just wonderful that she came out of retirement for Comic Relief.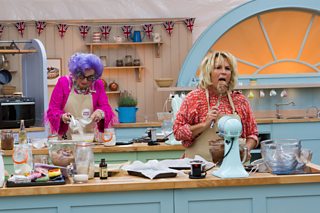 The contestants are so inspiring and they all threw themselves into baking with such gumption.
I clean up after the contestants along with the home economists, runners and whoever else is around to help. Dame Edna and Jameela Jamil were without a doubt the messiest bakers. We almost had to hose their benches down at various points!
The turn-around between the signature and the technical challenges is quite tight so it's always all hands on deck. It's not a glamorous job but there is a sense of satisfaction in seeing all the benches clean and tidy.
The bakers are always curious about everyone else's bakes so they taste them all. For the crew, it depends on how delicious the finished bakes look before we eat them!
Everyone had their highs and lows but the great thing was that they all took part in it to inspire viewers to get baking for Comic Relief. So the standards of cakes didn't matter so much... which was very fortunate in a few cases!!
Chloe Avery is the food producer on The Great Comic Relief Bake Off.
The Great Comic Relief Bake Off continues on Wednesday 18 February at 8.30pm on BBC One and BBC One HD. Each episode will be available in iPlayer for 30 days after broadcast, with episode one available now until 17 March.
More on The Great Comic Relief Bake Off:
BBC Food: Red Nose Day bake sale ideas
The Telegraph: Meet the star bakers
Comments made by writers on the BBC TV blog are their own opinions and not necessarily those of the BBC.