What pun would you use in your salon's name?
HAIR OF THE DOG
Which celebrity's hair would you most like to style and why?
Alice Levine has great unique style and beautiful red hair. Crucially, she seems like one of few celebs who wouldn't throw a tantrum if/when I accidentally burned some of it.
Tell us about a personal hair disaster that you wouldn't want to repeat?
I had white hair when I was 19. I think bleach can be addictive and before long, you've gone too far with it and can't tell you've got a problem. It was over-processed and genuinely crispy, but I thought I looked amazing. If I've got a confidence problem, it's that my self esteem is entirely too high.
Katherine and the judges keep a watchful eye on the contestants...
Who would you like to give a bad haircut to and why?
Donald Trump, because it would be a massive improvement.
What hairstyle would you like to see make a comeback and why?
I think modern hairstyles have lots of different period influences, but I wouldn't want to go back to any of them. Victorian women would achieve volume by saving old hair from their brushes and matting it all together to make 'rats'. We use clip-ins and similar tricks now, but I'm glad to have the option of synthetic hair instead.
What would you say is the secret to great hair?
Not to steer too far away from nature. The more you mess with texture and colour, the worse your hair is going to feel. I like that body ideals are moving away from 'skinny' towards strong and healthy. The same goes for hair in my opinion.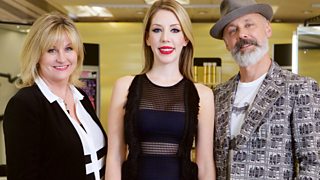 Denise, Katherine and Alain form the Hair dream team
Which celeb style icons would you have on your salon walls?
Emma Stone has shiny, healthy-looking hair but mixes up the colour just enough. It looks like autumn leaves to me. I love it.
Lupita Nyong'o has the most stunning face I've ever seen. Her hair is very short to accentuate it but she's creative with shapes and style.
Where are the people who don't like Taylor Swift? Not asking stupid questions, that's where. Everyone loves her. EVERYONE. It's mandatory. Her cropped hairstyle is perfect and so is she and for those reasons, I would also put Taylor Swift on the wall.
What would be your signature hairstyle?
I'd do that one I see on a lot of kids now where the ends are blue. I'd fill really glamorous loos with toilet cleaner and dip the girls' heads in just enough to get the tips wet. I'd call it 'the hangover'. I think that's how it's done.
Which celebrity hairdresser would you want as your mentor?
Denise and Alain, Hair's resident experts, are great but I know they're really busy already. I liked a lot of the contestants on the show, so maybe Meggan or Kellie or Phil. I got on with everyone and I think they're all going to be celeb hairdressers one day.
Which is best: Bob or pixie crop?
It depends on your face. If you've got very delicate feminine features and jawline, you can do the crop. Otherwise, bob's your uncle.
Katherine Ryan presents Hair.
Hair starts on Monday, 13 July at 10pm on BBC Two. Each episode will be available in BBC iPlayer for 30 days after broadcast on TV.
Comments made by writers on the BBC TV blog are their own opinions and not necessarily those of the BBC.