Trapped: How Andri's team went from zeroes to heroes
Spoiler alert! This post discusses events from episodes one to eight of Trapped – get up to speed on BBC iPlayer before reading on…
As BBC Four's latest Nordic noir comes to a chilly and chilling end, we're taking a look at how our relationship with police chief Andri and his tiny two-person team has evolved over time.
After a few rather unfortunate events at the start of the investigation, just how did we ever learn to love this seemingly useless lot? The residents of Seyðisfjörður might have been trapped, but we've been on quite a journey with Andri, Hinrika and Ásgeir…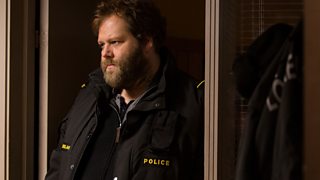 First, they lost the body
With a terrible blizzard engulfing the village and police support days away, Andri set to work on the grisly case. But things quickly took a turn for the amateur when photos of the body turned up on social media – and they 'mislaid' it altogether.
Admittedly the body was stolen from the makeshift factory-slash-morgue, but losing track of a torso doesn't look great when you're trying to convince the Powers That Be that you've got everything under control. And things were about to get worse.
Then the suspect escaped - and died
The blame lies quite squarely with Ásgeir on this one, given he let the foul-mouthed people trafficker out of his cell, but it coloured our perception of the team as a whole.
This was a low point – but Andri the bear was about to show his claws.
Andri took charge
Following the initial storm, Iceland's awesome landscape played its part in proceedings for a second time when snow hurtled down the mountain towards the village. This was when we first saw Andri as a real leader, barking orders in both Icelandic and flawless English to organise the recovery of Sigurður and his father.
Together with that rousing speech in the church, this was the turning point that we were all waiting for: finally we could get behind the gruffly heroic Andri. But what about his team?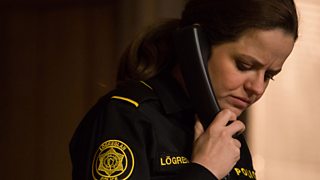 Hinrika got all the goss
Quietly spoken, and with her forehead permanently knitted in the most sceptical of frowns, it was hard to get a read on Hinrika in the early episodes. But when she started to investigate alone her mettle – and kindness – shone through.
Ultimately she was responsible for some of the biggest breakthroughs in the case, thanks to her unlikely partnership with resident "guardian angel" Rögnvaldur and his trusty telescope.
We met the Reykjavik team. We did not like the Reykjavik team.
When the snow storm finally cleared, Trausti and his band of decidedly unmerry men flew in by helicopter, determined to humiliate our now beloved Andri by quickly wrapping up the case.
In reality, they ignored key facts of the investigation, and bullied Sigurður into the confession which contributed to his shocking suicide.
The final showdown
As the conspiracy unravels and those involved grow increasingly desperate, we're heading towards a face-off between the local police trio and the town's elite. Can Team Andri complete their redemption with a rousing finale…?
The final two episodes of Trapped will be broadcast on Saturday, 12 March from 9pm on BBC Four. Each episode will be available to watch in BBC iPlayer for 30 days after broadcast on TV.