The Paradise: Bringing the set to life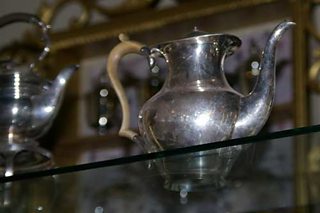 In contrast, where you have several identical pieces the repetition hints that they're probably reproduction items.
"Replicas give us the opportunity to repeat products and that's what you need in a department store," she explains.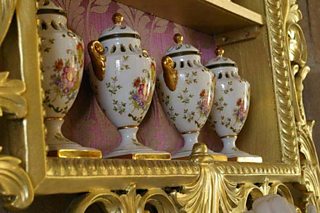 "It's always a mixture," Melanie says, "so here we've got candlesticks that we bought from a supermarket mixed in with antiques on the shelf below."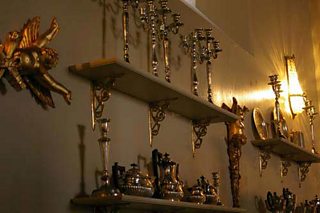 These glass dispensers came from a department store in America.

"Victoriana is quite large in America," Melanie explains, "so they make reproductions and sell them in the shops.
"The equivalent in department stores here are very plain and simple, so we had to get them imported."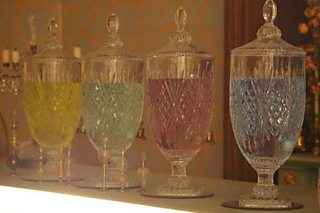 "When you're doing stuff for TV and film you've got to accept that 90% of what you do, if not more, just blends into the background," says Rebecca.

"You're trying to create things that add to the visual of the set without drawing attention to it.
"Lots of things are there to add the essential layers of detail, shape and colour in the background of the shop."
These wrapped empty boxes are examples of the 'deep background' props Rebecca is talking about - the secret to creating the impression of a fully stocked department store on a budget.
The boxes used on The Paradise set were all made in a box factory in Newcastle. As Melanie says, "It's all about the packaging."
Some of the labels were designed by the art department in period style. Originals from the period were also bought from historic label companies and replicated.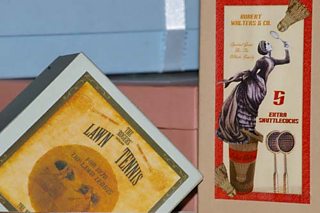 Company names used on the packaging are both real trading names from the period and ones invented by the production team.
Either way all the names need to be cleared for use according to copyright laws.
Copyright clearance can be got round by using clever wording that describes contents rather than a brand such as Finest Parisian Collars or even just Collars Ltd.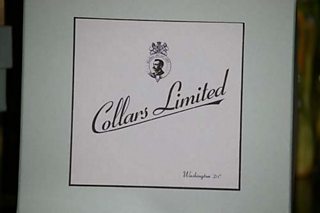 "The more expensive fabrics are on the rolls and they are literally wrapped once around foam," Melanie explains.
"Sometimes you have to say - it's going to cost too much, let's not stock that product."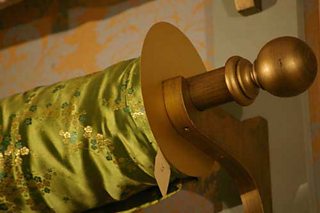 All the materials that appear must of course have been available at the time.
"We're lucky though," Melanie says, "all this stuff was around because the industrial revolution had already happened. That's one of the reasons why department stores evolved.
"You had the middle classes who suddenly had cash and could start spending and things were being reproduced so it was no longer a case of an individual craftsman making goods."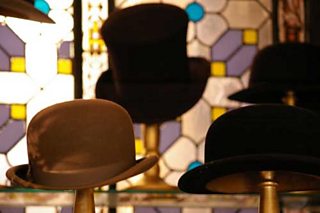 Everything in the department store had to look shiny and new but in Lovetts, the outdated rival store across the street, props had to feel like old stock with wear and tear, and had to be aged.
Melanie describes ageing as a real skill.
"Everyone has their own techniques. You take a new item, you spray it with dirty water, coffee or tea and in some cases, such as old boxes of stock, use sandpaper and a hammer to further wear them down."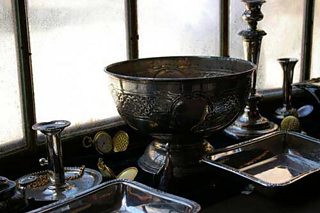 Many items were sourced from modern day craftsmen with a brief on how they might have looked in the Victorian era.

"We might have used specialist television people if we'd been in London," says Melanie, "but because we're in County Durham we used a regular baker and a regular florist.
"People really enjoy doing it because it's different to their normal day job!"
They tried varnishing the bread to make it keep but it wasn't a great success.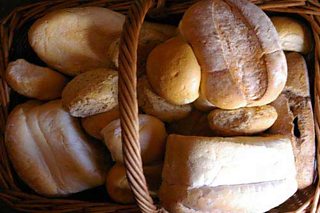 Finally, I asked Melanie what her and her team were most proud of.
"Everything's beautiful isn't it?" she says.
"It's the combination of everything together... When you add the repetition of items it stops it feeling like a museum or antiques centre.
"You totally know you're in a shop when you come in and that in itself was the greatest challenge that we've achieved."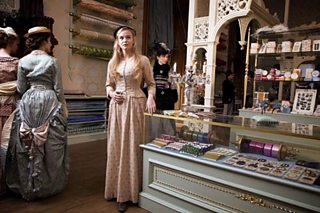 More on The Paradise
Watch the trailer.
Read Behind The Scenes In Paradise on the BBC College Of Production blog.
Hannah King is a researcher in BBC TV and iPlayer.
The Paradise begins on Tuesday, 25 September at 9pm on BBC One and BBC One HD. For further programme times, please see the episode guide.
Comments made by writers on the BBC TV blog are their own opinions and not necessarily those of the BBC.