Most people know him as a Radio 1 DJ and television presenter, but Greg James is shaking things up by starring in a self-penned new comedy short, Dead Air, exclusive to BBC iPlayer. So is his character, late-night radio host Jake Cross, anything like the real Greg James?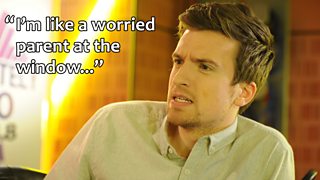 The release of Dead Air makes me feel like I'm about to send my child to school and I've got to leave them at the school gates. I'm like a worried parent at the window… I'll be giving them a thumbs up all day going: "It's OK, it'll be OK." But it's been a long time coming really. I'm relieved people will finally be able to see it and I hope somebody will like it.
The storyline is entirely fictional. But obviously I'm in the radio world and I'm on BBC Radio 1 so there are lots of bits that are inspired by the things that happened or by conversations that I've had.
My character Jake is a cool late night DJ which is nothing like me. It was much more fun to play someone that is a bit more credible in the music world. He's a well-respected DJ with a small but very loyal fan base and his big dilemma is whether to take the big coveted breakfast show slot.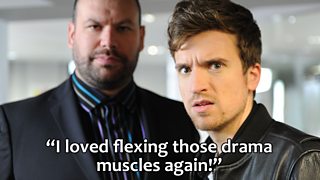 I met Tom Davis when I did a taster tape for Murder in Successville and it was the most fun I've ever had in front of the camera. I really loved improvising and being able to flex those muscles again. I've always performed - I've got a drama degree - and hadn't done it for a while so remembered how much I loved doing it. As soon as I started writing 'Dead Air', I realised that Tom would be perfect to play my mean spirited agent.
There's a Big Shane in all of us I think. He's the guy who doesn't worry about anything, and is really obnoxious and no one really likes him but he thinks everyone does. He's just a classic villain that you really love.
I love a pun. One of the most fun bits of this was coming up with the radio jingles and the phone in that Big Shane does when he's coming up with pizza puns. We really loved doing it and all that stuff does happen in radio – it's great to parody those sorts of worlds. I've done phone-ins like that, and I do silly voices on my show - all that kinds of stuff that Jake hates!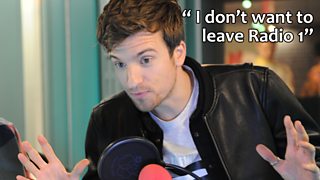 I'm happy doing my show and I have the best hours in the whole world. I don't want to leave Radio 1. But there is something inside my belly that makes me want to write and do some more acting and writing.
My heroes are Steve Coogan and Ricky Gervais. I think they are the finest of all time. Ricky Gervais' writing inspired me because he sort of created a new genre with The Office. A genre where it was OK not to have a laughter track and OK for something to be real and for people to question things.
One of the first things I ever watched was Fawlty Towers. It was made 10 years before I was born. I just loved it and thought it was incredible.
Greg James hosts his Radio 1 show at 4pm on weekdays, and co-wrote Dead Air.
Dead Air is available to watch and download from Monday, 13 July at 11pm in BBC iPlayer as part of Comedy Feeds.

Comments made by writers on the BBC TV blog are their own opinions and not necessarily those of the BBC.