In 1980, aged 15, I borrowed a record from the music section of my local library in Ibrox, Glasgow. It was called Music In Twelve Parts – Parts 1 & 2, by someone called Philip Glass. I knew nothing about it, except that I liked its minimal-looking orange cover.
Back home that night I listened to it, again and again, fascinated by its repetitive, hypnotic sound. Fast forward 32 years, and I find myself back in Glasgow, sitting in a concert hall with Philip Glass himself.
In the intervening decades Glass has become one of the most famous modern composers in the world, and I have become a documentary film-maker with a passion for modern classical music that was kick-started by hearing his record.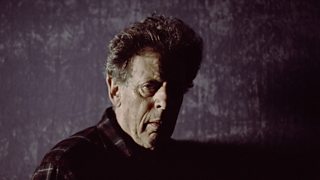 Philip Glass was one of the composers at the forefront of minimalism in the 1960s
And so it is somewhat fitting that he is the first person I interview for what will eventually become a three-part BBC Four series - The Sound And The Fury.
To a non-specialist audience 20th Century classical music can be daunting. Much of it is indeed harsh and complicated, deliberately so. It is not always an easy listen, and The Sound and The Fury sets out to explain how it came to be that way.
But for the third episode in the series I hoped to feature some of the composers who wanted to change that – to bring harmony and simplicity back into music, and to make a sound that had the energy, drive and popularity of jazz and rock.
This music eventually came to be labelled minimalism, and Glass was one of its pioneers.
In person he is a warm, friendly soul with a sly sense of humour. As he explains, his music was not an overnight success. Laughing, he recalls an early review that read, 'Glass invents new sonic torture'.
It is quaint to hear him describe how he played many of his early concerts in cafeterias. Today, his symphonies are performed to sell out audiences in the world's greatest concert halls.
Minimalism was, largely, a New York sound, and I go there to meet another of its towering figures, Steve Reich.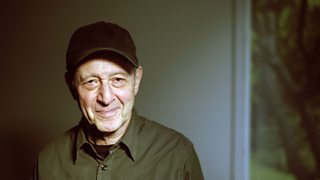 Fellow pioneer of minimalism, composer Steve Reich
For a time, as struggling young composers, Reich and Glass ran a house removals company together, but they had a falling out that is unresolved to this day.
Reich lives outside of the city, in an elegant mid-century modernist house. Its clean lines are just like the clean lines of his music. He's spiky, sharp-talking, with the tone of a wise-cracking comedian.
When I ask him why he thinks his work Music For 18 Musicians became such an audience hit he even hits back with a one-liner: "It's a good piece!"
'A return to normalcy': composer Steve Reich on the advent of minimalism
But his tone becomes softer, almost reverential, when he starts to speak about the music of his fellow composer Arvo Pärt, who he sums up as "the most important living European composer."
Pärt's music has sometimes been called holy minimalism. It is also incredibly beautiful - a deeply felt response to the composer's religious faith.
Pärt is no recluse, but unlike the gregariously media-friendly Glass and Reich he very rarely gives filmed interviews, and so I can't quite believe my luck when this gentle, unassuming man arrives at his office in Tallin, Estonia, and sits down in front of me.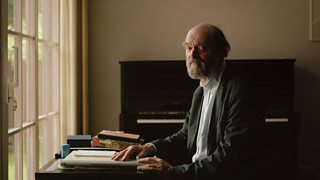 Composer Arvo Pärt, often identified with a form of minimalism with a distinctly religious focus
I'm used to filming with artists, writers and musicians – some of them very famous indeed – but I have to confess I've never been so in awe.
He talks about the fear he felt as a young man in Soviet Estonia, where religion was taboo, and of how repression affected the music he wrote. It's incredible to see how close the man is to the music, its plaintive heart and soul made flesh.
After we have finished packing away our equipment, Pärt sits down at a piano and starts playing. One of his assistants explains that it's a piece of music from the 1960s, when he made his living as a soundtrack composer in the Estonian film industry. "He only plays this when he's happy" she whispers.
With his back to the rest of the room he can't see his small team, his wife Nora, and the dumbstruck television crew. We are all beaming. And I have a tear in my eye.
Ian MacMillan is the series producer of The Sound And The Fury.
The Sound And The Fury begins on Friday, 27 September at 7.30pm on BBC Four. For further programme times, please see the episode guide.
This series was previously broadcast on BBC Four beginning on 12 February 2013.
BBC Four Collections: Modern Classical Music: programmes from the BBC archives featuring trailblazing 20th Century classical music composers.
Comments made by writers on the BBC TV blog are their own opinions and not necessarily those of the BBC.