13 things you need to know about Thirteen's Ivy Moxam
Imagine returning home after 13 years of captivity. Would your family even recognise you? Would anything be the same?
In new BBC Three drama thriller, Thirteen, Jodie Comer (from Dr Foster and Remember Me) plays Ivy Moxam, a young woman who escapes from a cellar after being abducted as a teenager on her way to school. We caught up with Jodie to find out the 13 things we need to know about this complex character…
1. Ivy is very guarded
Ivy isn't very intimate – when she first escapes, she doesn't want physical contact. One thing I had to really focus on was being aware of when people were around me. Being aware of when characters are touching you or trying to make contact and reacting to that. That was a big part of playing Ivy.
2. You'll never fully understand who she is
Ivy's like this animal, she is so feral. When she's around certain people, certain sides of Ivy do show more than others. There is definitely a mystery about her, one minute you think she's Ivy and the next she's not giving you the 100 per cent truth. Even playing her you just don't quite understand who or what she is.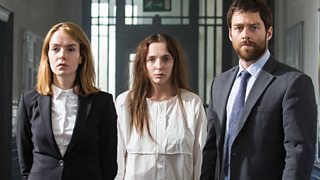 Detective Sergeant Lisa Merchant and Detective Inspector Elliott Carne question who Ivy really is
3. Not everyone feels the same way about Ivy
DI Carne, who is assigned to Ivy's case, sympathises with what she may have gone through and still sees her as a girl who has been through this turmoil. I think he just sees the innocence within her that his colleague, DS Merchant, maybe doesn't see. Merchant is a lot more suspicious and isn't so quick to welcome her with open arms.
4. Her family's reaction was surprising
The one thing that shocked me when I first read the script was that they'd taken all of her stuff out of her bedroom. So when they put it back in that broke my heart a little bit. Ivy's effort to find out what her family are thinking and how that affects her unfolds a little bit more as the series goes on.
5. Ivy has to re-build a lot of trust
Even though they're her family, Ivy doesn't know them - they're not familiar people to her. That trust has to be rebuilt - which takes a lot of work.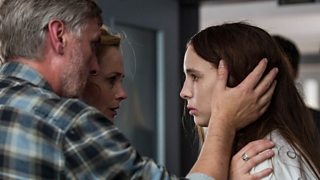 Familiar strangers: Can the Moxams go back to being a family again?
6. Her own sister doesn't recognise her
Her sister definitely has her suspicions: she doesn't think that this is Ivy at all. But then such a long time has passed and Ivy is not that 13-year-old girl who left. She's experienced so many different things that have completely shaped her into a whole new person.
7. Ivy just wants to be 13 again
She wants to pick up where she left off and there is such a giddiness when she is around her old friend Tim (played by War and Peace's Aneurin Barnard). She tries her best to not be affected by the situation and to brush it off and be 13 again. There is such an innocence about her in those scenes with Tim.
8. But she doesn't feel like a victim
Ivy doesn't feel self-pity in all this. She's become hardened by what she's gone through. For her that was normality for 13 years, so to then come back and have everyone fuss over her, I think that drives her crazy.
9. She wants to move forward
I think she feels that Tim is someone she can chat to and someone to move forward with rather than treading over old ground. Tim is definitely who she clings to at first.
10. Ivy has such great strength
She's lived a hard life and it is so alien to what we could ever imagine. She's missed out on so much, all those chats that you have with your mum when you're growing up. She has got such strength to have been able to come out the other end.
11. She has to learn what it's like to live again
I think she sees the world in a completely different light now and she's probably forgotten a lot of things. When she gets out, she's reminded of what life is like and what normality is to others.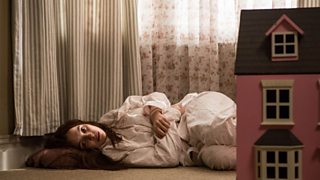 12. We have to guess about Ivy's past
We follow Ivy from when she escapes her captivity. There are no flashbacks which leaves a lot to the audience's imagination. They have to assume what she has gone through by the way she is acting.
13. Ivy's experiences open your eyes
You spend a lot of time with the detectives and the case which can feel very intrusive but I think it opens people's eyes to these types of stories. You hear of these things happening and think: 'What must their mum and dad be going through?' or 'Well I wonder what happened when she got home?' So Thirteen opens that up a little bit. I think it is important to get people thinking and talking about this subject.
Jodie Comer plays Ivy in Thirteen.
Thirteen starts on Sunday, 28 February at 12pm on BBC Three. Each episode will be available to watch in BBC iPlayer for 30 days after broadcast.
Jodie's byline picture is from Jack Alexander/Notion Magazine.
Comments made by writers on the BBC TV blog are their own opinions and not necessarily those of the BBC.