As if starting work as a doctor wasn't intimidating enough, I decided it was a good idea to let a film crew follow me, right from my first shift at The Royal Liverpool University Hospital.
I have always enjoyed a challenge. Almost every step I took for the first few weeks was with two of the TV crew right behind.
Luckily enough, my closest friends Tom and Emily agreed to be filmed on Junior Doctors too, so we could also share this experience.
The junior doctors chat about their concerns before their first shift on the ward
I'm particularly grateful I stayed in Liverpool for my foundation training after graduating because I have been able to share all the highs and lows with Tom and Em.
Getting to know a new job, a new hospital, a new team of colleagues, as well as a film crew was exciting! There were however, times when having a TV crew following me was difficult.
I was happy to have the crew with me as long as the patients were happy, but there were times when I felt it was too much to continue filming because of the nature of the conversations or procedures.
In these cases, I asked the film crew to stop filming, even though I knew these were the moments they were so desperately hoping for.
Protecting patients' privacy and dignity is something that has been drilled into all medical students from the beginning of our training.
One of my most memorable moments of the filming didn't even make the cut... I was being filmed at graduation and I discovered there was a MASSIVE insect in my mortar board.
I completely freaked out in front of the cameras.
I remember thinking during the ceremony, 'If I can't even stay calm about an insect, how on earth am I going to survive as a doctor, and why have I put myself through doing it in front of thousands of TV viewers?'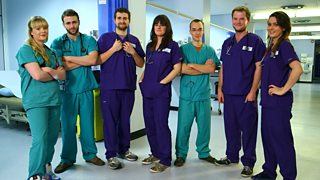 The juniors on the ward: Kiera, Ollie, Tristan, Emily, Ed, Tom and Jen
I've seen the whole of series three of Junior Doctors. I really enjoyed the private viewing with the other junior doctors but it was always going to be a hard watch for me because my nature is to be quite self-critical.
The first few episodes we all watched together in the shared house, with a few members of the film crew who had become close friends, and a couple of glasses of wine.
It was really quite an unreal experience, almost out of body, as I have never seen or heard myself on camera before.
I could remember filming the interviews and wondering how what I had said would be interpreted. This was the first time we'd see how they all turned out.
It was also interesting seeing the editor's interpretation of what happened and what they focused on, which was often very different to what I found interesting or important about the situation.
I was pleasantly surprised by the viewing and I have to say we all just laughed a lot.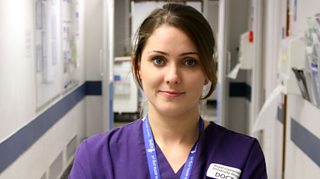 Jennifer Whiteley in her scrubs
All of us had painful moments but you wouldn't do a programme of this nature if you didn't have the ability to laugh at yourself.
After we had seen the final episode it felt like we'd closed the chapter in that book. I had forgotten that it hadn't even really begun, as nobody else had seen it on TV yet.
I learned so much about myself while doing the programme. Nobody else ever gives you as much air time to talk about yourself and you constantly have to reflect on your day's work and the interactions you have.
In some ways I think it may have helped me to recognise things that I found hard or could have handled differently, simply because someone was always asking me why I did it!
Since starting work my confidence has grown but increasingly I realise how much more I have to learn and I am excited to start learning!
I remain grateful to patients and their relatives who have let me into times of their lives which are so deeply personal.
Jennifer Whiteley is a foundation year one doctor on Junior Doctors.
Series three of Junior Doctors begins on Thursday, 17 January at 9pm on BBC Three. For further programme times, please see the episode guide.
Comments made by writers on the BBC TV blog are their own opinions and not necessarily those of the BBC.