Ultimate Rome: The town that captured Mary Beard's heart
Mary will be writing a new post each week for her new series, Mary Beard's Ultimate Rome: Empire Without Limit.
One of the highlights of our filming for me was going to some of the Roman sites in Algeria. I had never been there before, and it wasn't entirely simple to get permission to film. We owe a lot to the British Ambassador in Algiers, who helped us get the permits to go to the sites.
The real star was the city of Timgad, a Roman town on the very fringes of the Sahara. It started life as a settlement of ex-squaddies, and became a town that paraded its cultural "Roman-ness". In a way, it was a town more Roman than Rome, at the furthest extremity of the Roman world.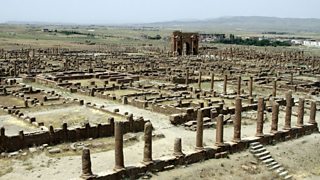 Two things stand out for me. First was my own exploration of the town. In the programme, you will see me wandering around the place and saying: "Oh wow, this must be the library…" and so on. I guess you might think that this is a set up.
Actually the production team were very keen to stop me from discovering too much about the site before I got there, so that we could see my first reactions to this town I had never seen before. There may have been a few re-takes, but basically what you see is my real excitement in meeting a Roman site I hadn't seen before.
Second, and equally memorable, was the reaction and support of the local staff on site. They came with us and helped throughout our visit, and wholeheartedly got into the project. One of the young men there was a TV natural. By the end of the second day he had become a smart camera assistant, finding and fixing new lenses to the camera.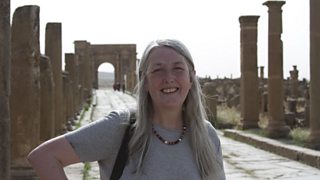 And one highlight that came with this was an interview with the ex-mayor of modern Timgad.
I asked him who he thought had been the people of ancient Timgad. He hesitated a little, then said that they must have been part Roman, part Berber, and a right old mixture – just the kind of multicultural melting pot that we were arguing was the distinctive feature of the Roman empire. But it was really nice to hear it from him.
When, a few months later, I had an email from the ex-mayor to say that he had just got my new book, I felt a big rush. It may just be telly, but there is a great hand of friendship here that is unforgettable.
Clichéd I know, but there's a little piece of Timgad now in my heart.