Hi. Tom Craine here. Stand-up comedian and Songs of Praise Christmas special soloist 1992. After spending 23 years dining off a pitch-perfect rendition of Once in Royal David's City, I co-wrote the new BBC Three sitcom Josh with fellow comedian Josh Widdicombe.
It revolves around three flat-mates and their daily stresses. Flat-sharing is something most people experience at some point. In fact Josh and I lived together a few years ago, and I think it's safe to say he'd suggest I was an incredible housemate: kind, wise, and with a body in peak condition. Not too muscly. Not too slight. Just right. And I, in turn, would like to take this opportunity to say that Josh was an absolutely fine flatmate. Perfectly adequate. Although he did have a slight belly.
So with our flat-share sitcom hitting the airwaves, and with our house sharing past, the nice people at the BBC have asked us to mull over some famous sitcom roomies, and how we'd feel about living with them…
Josh's pick: Men Behaving Badly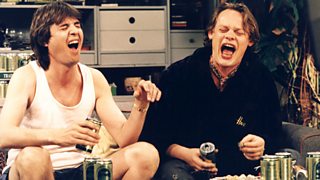 Neil Morrissey and Martin Clunes lived 90s lad culture in their sitcom
Josh: I hate to admit this in print, but when I was an impressionable teenager with dreams of being independent, drunk and anywhere other than Devon, living the impossibly 90s lifestyle of Gary and Tony seemed like a utopia.
Looking back at that now I shudder at my naivety: while Men Behaving Badly remains a brilliant sitcom, how did I ever aspire to Gary and Tony's eternal adolescence? Consistent trips to an awful local pub, badly functioning relationships, weak lager, and long hours in boring jobs. Having now lived all of these experiences at one time or another I can report back to my 13-year-old self that the reality doesn't match up to the dream.
Tom's pick: Friends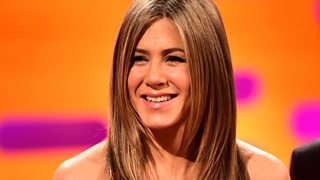 Rachel Green (actress Jennifer Aniston) was an early crush of Tom's
Tom: I'd enjoy living with this bunch, and not just because I'd get to live in a New York penthouse for diddly-squat. Joey, Monica and I have a love of food in common, while Ross could tell me about dinosaurs, and hopefully loudly enough to drown out Phoebe.
But best of all, I'd get to spend time with Rachel, my number one teenage crush. As a spotty adolescent with nothing to show for myself apart from a crisp packet pencil case, I remember feeling genuinely happy when Brad Pitt and Jennifer Aniston had marital issues… as if that gave me an in.
Josh's pick: Bottom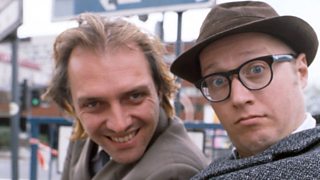 Rik Mayall and Ade Edmondson played the neighbours from hell in Bottom
Josh: A lot of problems here for me. Number one: I am quite scared by physical violence and consequently have never been in a fight. As a result I wouldn't ideally choose to live with two men who would hit you in the face with a frying pan as soon as look at you.
Add this to cleanliness problems and issues with one of your flatmates having the surname Hitler, and you can count me out of this room ad. This is despite the obvious benefit that - for the first time - I'd be considered the household's resident ladies' man.
Tom's pick: Father Ted
Tom: The issue here would be Dougal. I've had a dopey housemate before, and it was stressful. This was a man who once rushed to the loo after a big shop, and on finding no toilet roll, used a slice of bread.
Although I'm not this bad, I am a dopey person myself, so I need my flat-mates to offset this. In fact, on a recent romantic trip with my girlfriend, I managed to book a hotel room Ted and Dougal would've been proud of. Two singles and a dividing wall anyone?
Josh's pick: Josh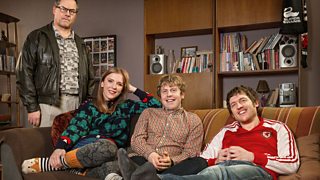 Landlord Geoff (Jack Dee) with tenants Kate (Beattie Edmondson), Josh (Josh Widdicombe) and Owen (Elis James)
Josh: For the sake of this article I should say I am presuming I am coming into this flat as a replacement for the character of Josh, rather than dealing with the glitch-in-the-Matrix scenario of sharing a house with someone with my name, face and voice.
I actually believe I would cope better with this set up than any other on offer in this article (for a start, I would find living with or near Jennifer Aniston impossibly intimidating). In fact, often after a day of filming, Elis James (who plays Owen) and I would discuss how even pretending to be these people made us miss the time when you lived with your friends and had no responsibilities. I am a nostalgic person by nature and I worry now that doing this sitcom has just been my way of returning to a house-share for one final time.
Tom Craine and Josh Widdicombe co-wrote Josh.
Josh continues on Wednesday, 18 November at 10.30pm on BBC Three. Each episode will be available in BBC iPlayer for 30 days after broadcast on TV.
Comments made by writers on the BBC TV blog are their own opinions and not necessarily those of the BBC.