Hormonal pigs and chickens' bottoms: Giles And Sue Live The Good Life
When the idea of living the Good Life was mooted it felt like a no-brainer.
Spend the summer in dungarees, mooching round the garden, tending brassicas with one hand and a pair of goats with the other? Sounded like paradise, if paradise was a manure-smelling, weed-infested back garden in Metroland.
We wanted to experience the highs and lows of setting up your own smallholding, whilst capturing a flavour of the well-loved sitcom. I like to think we did Tom and Barbara proud, although the evidence is to the contrary - and despite my best efforts at 'doing a Kendal', it's unlikely my ageing tush will trouble the judges of Rear Of The Year in the same way Felicity's did back in 1981.
There were hard times. There were lessons learnt. It may well be fun to make your own wine, but by god it's the very opposite of fun to drink it. Pigs are great to play with, right up until the point until they hit sexual maturity.
From that moment on they see you less as their owner and more of a potential partner. Let me tell you, the very definition of fear is the sight of a 10-ton Gloucestershire Old Spot giving you the glad eye.
The four chickens kept us on our toes: Kerry (Katona), Katie (Price), Coleen (Nolan) remained in rude heath, but poor Theresa (May) - named because of her tendency to move way over to the right - went down with a terrible dose of anal mites. I was forced to hold her upside down and empty the best part of kilo of chemical dust up her backside. That certainly ruffled her feathers the wrong way.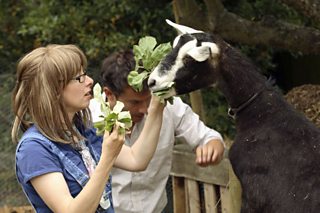 Giles' learning curve wasn't so much a curve as a resolutely straight line. He came into the project scared of animals and he left scared of animals. On the plus side, we can now make a sort of artisanal, goaty ricotta through a sock - which I thoroughly recommend should you find yourself at home, bored, with a pet Capra Hircus and some spare winter hosiery.
I take from the show very happy memories of long sunlit evenings spent tending the vegetable patch and putting sun-block on the pigs' nostrils and ear-tips; of watching Mary Berry create the perfect Christmas feast and Peter Purves failing to make an advent crown. I hope you'll agree - that's a pretty Good Life.
Sue Perkins stars in Giles And Sue Live The Good Life.
Giles And Sue Live The Good Life starts on BBC Two on Monday, 8 November at 9pm.
For further broadcasts, please see the upcoming episodes page.