There have been countless plans to connect mainland Britain to the outside world
I began by giving research advice, then one thing led to another and I ended up in front of the camera!
 
We wanted to look at some of the mind-boggling unbuilt plans from the past and find out why they hadn't been constructed.
Some of them were clearly outlandish and technically impossible, but many of them were actually going to go ahead – until a twist of fate, finance, or public opinion pulled the rug from under them. 
We wanted to investigate schemes from across the UK. There are loads of unrealised projects for London, precisely because it is the national hub, but it would have been rather metro-centric not to look further afield.
Two of the schemes that we explore are in Scotland – the Mid-Scotland Ship Canal and the Bruce Plan for Glasgow.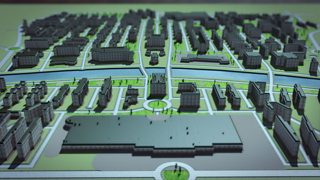 Robert Bruce designed this stark, modernist vision for regenerating Glasgow in 1945
The Bruce Plan is fascinating because it demonstrates a moment when Victorian architecture was so out of favour that planners were on the brink of obliterating the historic buildings of Glasgow's city centre and replacing them with a Modernist ideal.
Fortunately, it didn't happen - they're exactly the same buildings – by Charles Rennie Mackintosh and Alexander 'Greek' Thomson, for example – that tourists flock to see today. 
 
Architecture and drawing have a very close relationship, so the graphics for the series were really important.
The brilliant graphic designers at Playdead did a fantastic job of conjuring up 3D visuals from the surviving assortment of plans and perspectives, so that you get a sense of what it would have been like to experience some of these buildings and urban spaces.
Joseph Paxton's only surviving drawing of a giant elongated Crystal Palace brought to life
It was a privilege to talk with so many experts, often in wonderful surroundings, or in strange places. Interviewing under the seabed of the Channel was certainly novel!
Norman Foster and Eric Kuhne fitted us in to their busy schedules with clients – fortunately the time they gave us didn't put any yet-to-be-realised projects at risk! 
Talking with contemporary architects is a key part of the series. The problems that architects of the past were grappling with are essentially the same that face us today – a rising population, the need for transport and communications, and the desire to represent ourselves in what we build.
The schemes we look at are historical, but they help us to appreciate how architecture and infrastructure play a crucial role in our present-day and future lives.
Dr Olivia Horsfall Turner is the presenter of Dreaming The Impossible: Unbuilt Britain.
Dreaming The Impossible: Unbuilt Britain continues at 9pm on Monday, 19 August on BBC Four. For further programme times please see the episode guide.
Comments made by writers on the BBC TV blog are their own opinions and not necessarily those of the BBC.