Windfarm Wars: Filming the renewable energy debate in Devon
When I convinced the BBC to commission Windfarm Wars, call me naive, but I had no idea it would take seven years of my life to deliver. And doubtless most of the people we've followed with the camera over all those years didn't figure their lives would evolve this way either.
And, over that time, the whole question of how the country best provides for its burgeoning energy needs in a sustainable way has, quite simply, become more and more tortuous. Toxic even.
Windfarms divide opinion like few other topics. They are beautiful to some, eyesores to others.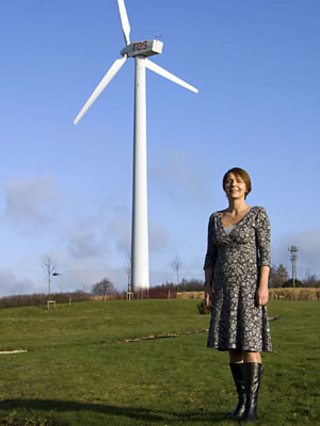 They are free sustainable energy or expensively inefficient. They desecrate the landscape, or they protect its future existence.
For a filmmaker treading into this minefield, the antagonism between incoming developers and the local residents they seek to convince can be most difficult to negotiate.
Renewable Energy Systems, or RES, first put forward their plans for a windfarm in Devon in 2004.
It would be sited four-and-a-half miles from the northern edge of Dartmoor National Park, in the shallow valley of Den Brook.
I started as the film's executive producer, largely office-based, but with a director and small team on location.
But, seven years later, I had become the sole production member the budget could still afford to have on location, shooting on my own to see the story through - and the windfarm had still not been built
Early on, we were lucky enough to gain access to all sides of the Den Brook dispute, from developers RES, to landowners and protestors alike, and to the council and council planning committee.
As the story went on, and on, over the years, this access widened to include lawyers and barristers, expert witnesses, and the planning inspectors involved in public inquiries.
Maintaining everyone's commitment and involvement over the long years of the process demanded confidentiality and tact.
Each side had to trust that we would not tell the other things that only we knew.
Windfarm Wars was originally commissioned as a single film - an observational documentary. We would follow whatever happened, wherever developments took us.
By the time the commission fell into place and the director of the first film, Olly Lambert, arrived in Devon, RES had already held their introductory exhibitions, where they showed the residents of the nearby villages what the windfarm might look like and where it would be situated, and answered their interests and concerns.
Feelings for and against the windfarm were already running high.
It's difficult to gauge the true feelings of a whole community. One of the ways is to go by those who have bothered to write letters to the council.
When the closing date came, the council had 402 letters and 3,000 questionnaires in objection and 31 letters in support.
We roughly assembled the material as we went along but each time a viewing with the BBC had come due, it was apparent that a chapter may have finished - but the big story was still unresolved.
Luckily they had the vision to keep running with it. Eventually it became a four-part series. BBC channel controllers have come and gone while waiting for it to materialise.
At times, as long waits for the next part of the planning or legal process had to be endured, it was tempting to wrap up the project, but I wanted everyone involved in the whole process to know it was being documented very publicly, and that it would be seen through to the end.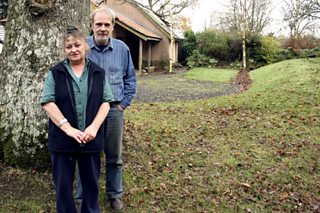 And, as concerns about global warming, reduction of carbon dioxide emissions and the security of energy supplies became more and more acute over the years, the project gained in significance, and just had to be seen through.
What emerged is what I hope some people will see as a unique social record of how one of the nation's key dilemmas has unfolded in the early 21st century.
The four films unravel as a narrative story, and while viewers think they may know where they stand initially, a fair few may well change along the way.
Windfarm Wars will no doubt raise tempers, and for some of the many people who've taken part it will be difficult viewing - not least to see how we've all aged through the process.
Perhaps it will be difficult too, because all sides may need to confront and acknowledge mistakes, to review how they could have done things better.
For many, it's clearly been a journey that's taken courage, commitment and faith in the search for what each perceive to be the truth - the best way forward for the good of all. There may be regrets.
I hope, though, that the end product of the process of documentation has been usefully revealing and thought provoking, and that it will, in time, repay the commitment that many gave to the project. We'll see - soon enough.
Jeremy Gibson started as executive producer and also worked as series producer of Windfarm Wars.
Windfarm Wars is on BBC Two on Fridays at 7pm until Friday, 3 June. The first two episodes are available in iPlayer until Friday, 10 June.
For further programme times, please visit the upcoming episodes page.
Comments made by writers on the BBC TV blog are their own opinions and not necessarily those of the BBC.