Just below my temporary office in sunny Budapest, a Hungarian construction team are building a train. Not just any old train, but a beautiful reconstruction of 1900s corridors, compartments and a dining car. 
We are preparing to shoot the BBC One version of The Lady Vanishes, which Hitchcock made famous in his 1938 film.
Most of the action is set on a moving train, from which the unassuming Miss Froy 'vanishes', provoking the irritating and self-centred Iris to put herself on the line to find her, foil a plot and redeem herself.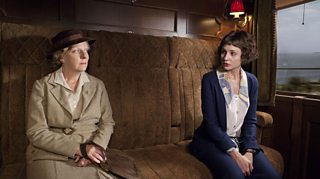 'She was sitting right here': Miss Froy and Iris Carr
Sometime later, I stand in the finished set and am awestruck by the superb skill and attention to detail that our carpenters, painters and set decorators have delivered.
I then remind myself that it was me, the director, and my designer who insisted the dimensions be virtually no bigger than the real thing - and that was cramped!
The Doctor (Jesper Christensen) in a reconstructed carriage corridor
Outside hang the huge green screens which, by the wizardry of computer-generated imagery, will enable suitable backgrounds, which we have previously shot on the Croatian coast, to appear to whizz by with complete credibility.
Now for me it is a toss up which to be more anxious about: creating the necessary illusions and drama in this wonderful tight space, or following in the footsteps of Hitch!!
Iris meets Max for the first time aboard the train
Fast forward a little more and the illusions are a joy in themselves. Light effects flash past, curtains sway gently on hidden wires, even the actors have been schooled to never quite stand still; think trying to carry two cups of coffee down a modern express train without spillage and you'll have the idea.
We have even mastered the problem of squeezing several actors, sound recordists and a hand-held camera down the corridors all at the same time without the equivalent of a motorway pile-up.
I hope you'll enjoy the result. If you should wonder whether this director makes a very fleeting appearance himself as Hitch used to; well yes, of course - it would be rude not to!
Diarmuid Lawrence is the director of The Lady Vanishes.
The Lady Vanishes is on at 8.30pm on Sunday, 17 March on BBC One and BBC One HD.
Comments made by writers on the BBC TV blog are their own opinions and not necessarily those of the BBC.