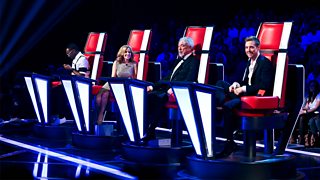 And so we've made it to the LIVE FINAL. And what a journey! But there was no time to get emotional as the show was kicked off in rocking style with the coaches rocking out to the Primal Scream classic rocker ROCKS! Where else in the world would you get to see such diverse artists as
Sir Tom Jones
,
Ricky Wilson
,
Kylie Minogue
and
will.i.am
performing together? Well, the Voice Obvs!
Will.i.am was tweeting as usual, this episode he got the #selfieTOAST trend going. Go check it out!  
If you played our game, Guess Who Will Be Singing What in the Live Finals (or GWWBSWITLF for short) in the week, we can now reveal Who Sang What in the Live Finals (or WSWITLF for short). There was not a dry eye in house after the four artists had finished singing, as they all tackled heartfelt tearjerkers.
Christina Marie was up first singing Coldplay's lighters aloft festival favourite... and tearjerker, FIX YOU.
Sally Barker's tearjerker was Joni Mitchell's weepy (and a song featured in Love Actually), FROM BOTH SIDES NOW.
Jermain Jackman didn't swing out on wrecking ball but he did slide into the studio on a pole and sang Miley Cyrus's recent nude video tearjerker WRECKING BALL. Cheryl Cole loved it. She even phoned in to tell Will on air. Did she know it was live?!
Then finally it was Jamie Johnson's turn to make us cry as he sang John Waite's classic 80s tearjerker MISSING YOU.
As the audience wiped away the tears, the phone lines opened and it was time for the finalists to perform with their coaches.
First up was TEAM RICKY (Mr. Ricky Ticky and Christina Mmmmbop) singing the new Kaiser Chiefs song COMING HOME... with huge puffs of smoke.
Then it was Sir Tom and Sally singing WALKING IN MEMPHIS, originally by Marc Cohn but also covered by CHER. These facts are for free BTW.
It all got very magical as Jermain and will.i.am performed PURE IMAGINATION, originally sang by Gene Wilder in the classic 70s kids movie Willy Wonker and the Chocolate Factory... ah, happy memories.
Then finally it all got very holy with TEAM KYLIE (Ms. Kylie and cheeky chappy Jamie J) singing the Eurythmics classic THERE MUST BE ANGEL, just like angels – only with a disco beat.
After the first special guest, Paloma Faith had performed (singing CAN'T RELY ON YOU in case you're wondering), the phone lines were FROZEN and it was time for one of the contestants to leave the competition... and with a deep sigh we learnt that the artist with the least amount of votes was Jamie.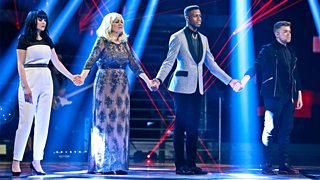 With Jamie sadly leaving the competition the phone lines were reopened and it was time for the three remaining finalists to sing their Song of the Series (or SOTS as we're calling them):
First up was Christina Marie's singing her SOTS, THE POWER OF LOVE by Frankie Goes To Hollywood.
Then Sally Barker's gave us her SOTS, DEAR DARLIN' by Olly Murs.
And finally Jermain Jackman's SOTS was AND I'M TELLING YOU by Jenifer Holliday.
Then with everyone having completed their SOTS, there was just enough time left in the show for Aloe Blacc to perform his new hit THE MAN (QUICK FACT: this song samples Elton John's YOUR SONG).
Then it was down to the moment we've all been waiting for and the climax of the show... and the series! With the phone lines closed it was time to announce the winner of The Voice 2014...
And the winner was... Jermain! Horay for Jermain!