Got a burning question for our coaches and artists? #MarvinAsks!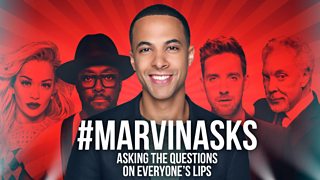 That's right Voice fans, #MarvinAsks is BACK!
Keen to know Joe Woolford's favourite body part? What about Sasha Simone's shoe-size? Wanna know Rita's favourite member of JLS? Or Ricky's top 3 cheeses?
If you've got a juicy question for our artists and coaches, our V Room maestro Marvin is once again here to ask the questions you daren't ask yourself.
So no matter how cheeky and borderline invasive your question may be, simply let us know either in the comments below or on Twitter, Facebook or Instagram using #MarvinAsks and we'll pick the best ones for Marv to ask in the super-digi-interactive-esq V Room on Saturday nights, YEAAAAH!