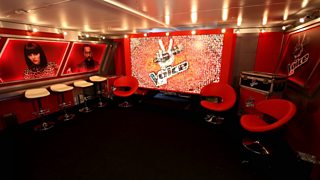 The V Room
So this is it. Today's the day. Tonight's the night. It's time to get serious. It's time to go... LIVE.
Hello there, Reggie here. That was a dramatic intro wasn't it? I've given myself goosebumps (or maybe it's just cold).
Right, let's talk V Room. As you know, in the live shows I'm gonna be reading out your blog comments, Facebook posts and tweets in our bright red nerve-centre of internet chatter: The V Room.
On a big screen in the V-Room is a mosaic made up of loads of your wonderful faces. If you liked our Facebook post about it, or retweeted our tweet, your mush might be on there. Keep an eye out for it.
And seeing as the blog, Facebook and Twitter are taking a starring role in the show, we need AMAZING comments for me to read out. If you all just post: "OMG Reggie is soooooooo buff", it's gonna be pretty embarrassing (even though I'll like it). I'll be reading the best comments, questions and tweets to the artists, so HIT US WITH YOUR BEST STUFF.
See you in the V Room, people. It's gonna be vantastic, vantabulous and vamazing*.
Regg(v)ie
* FYI - I will be better than this in the V Room. Okay bye.