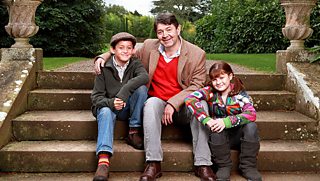 We're very aware of what the character of Nigel Pargetter meant to many listeners, and how much they will miss him.
Between 4pm and 8pm tomorrow (13 Jan), we'll be running an online event here on The Archers blog. This will coincide with the episode featuring Nigel's funeral. We'll be sharing moments from the character's history, and inviting listeners to contribute their own memories and tributes.
It will be a sort of online Book of Condolences, a permanent tribute to this much-loved character and to Graham Seed, the actor who played him.
It will take a similar form to the live online coverage of the 60th anniversary day, during which Radio 7 broadcast classic episodes, and interviews with current cast and production staff.
Do please join us as we say goodbye to Nigel.
Keri Davies is an Archers scriptwriter and web producer.
Picture shows Jack Firth (Freddie), Graham Seed (Nigel) and Georgie Feller (Lily)