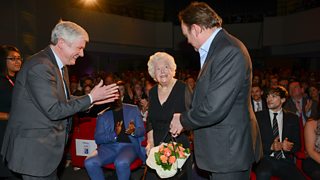 June Spencer (Peggy Woolley) honoured at the BBC Audio Drama Awards (Jan 2014)

June Spencer (Peggy Woolley) has received a Lifetime Achievement award at the BBC Audio Drama Awards.


BBC director general Tony Hall presented the honour yesterday, in a ceremony hosted by Lenny Henry.

June said it was extraordinary to receive an award for doing something she enjoyed so much. She paid tribute to Archers actors no longer with us, especially Arnold Peters, who played her second husband Jack Woolley.


Archers editor Sean O'Connor, said: "June is an extraordinary woman who has committed her life to the BBC and The Archers. At 94, absolutely nothing fazes her. She performed with heart-breaking dignity in the recent episodes, using her instincts as an actress and channelling her own difficult experiences of caring for a loved one with Alzheimer's. 

"It's a testament to her that these episodes have managed to move listeners so profoundly."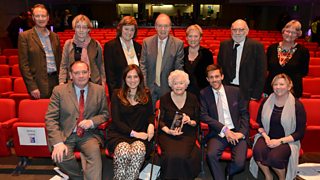 June Spencer (Peggy Woolley) and friends at the BBC Audio Drama Awards (Jan 2014)
An announcement on Facebook has gained over 1000 "likes" and comments from listeners.
Add your own tribute to June there
or in the comments below.
Media coverage
The award was widely reported in the press. In an
editorial
, The Daily Telegraph described the award as "richly deserved". It also ran a
detailed article
focussing on the storyline of Jack's Alzheimer's disease and its impact in the real world.
The Independent
spoke to June the next day
, where she remembered her early days on the The Archers and contrasted them to now.
The i newspaper
profiled June
, saying "professionals in the field ... have praised the show for helping bring the disease into the spotlight". 
I attended the ceremony with some of my colleagues. The warmth in the room for June from a wide group of drama professionals (including the actor Philip Glenister, pictured above) was palpable. A very emotional moment.
June Spencer on her BBC Audio Drama Awards Lifetime Achievement Honour