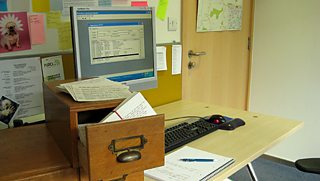 So Ruairi is regretting not taking 'Mousey' to his new boarding school. But who or what is Mousey?
A search through our programme archive turned up details from the episode broadcast on 6 May 2007. Ruairi's mother Siobhan Hathaway, in the final stages of her illness, was desperate that Brian should know as much about possible about his son, including his favourite soft toy.
Siobhan died two weeks later, but Ruairi's preferences survive, thanks to the archive.
This is the entry:
"Ruairi likes his books "Three little pigs" and "Where the Wild Things are" and when he's watching The Jungle Book he needs a cuddle when Baloo dies. In summer he likes to eat outdoors and his favourite food is hot dogs made with bratwurst. Mousey is his comforter Siobhan bought a duplicate in case the original got lost, but Brian would need to dirty it up a bit."
(As an aside, this brought back memories for me, as I wrote that episode, and based some of Ruairi's preferences on those of my own three sons - not the bratwurst, though, which came from Ruairi's time with Siobhan in Germany.)
Computerised now
As you'd expect, the archive is computerised, and has been since the the early 1990s. It contains a vast array of information, including every episode synopsis since then - the same ones as you can read on our programme pages.
But before computerisation, and right back to the start of The Archers in 1951, details were typed onto file index cards (over 20,000 of them). Our archivist Camilla Fisher still turns to them when we need some information from the dim and distant.
Back in the present, Camilla categorises events so that they can be tracked and recorded by storyline, rather than with a painstaking search through perhaps years of individual episodes.
She also trawls the scripts for important details that haven't got into the synopsis, but which still need to be recorded.
Camilla is invaluable to The Archers writers, in big ways and small. The big includes providing us with detailed backstories that are relevant to current and future events in Ambridge. The storylines that you can access through our timeline are based on information she provides.
And the small? Well, I recently wanted a reason for Brian to have left Lilian and Matt's dinner table. Perhaps he didn't care for the dessert? Camilla confirmed that if Jennifer said Brian doesn't really like meringue it didn't conflict with anything in the archive.
Archers listeners care about these things. And quite right, too.
Keri Davies is an Archers (and Ambridge Extra) scriptwriter and web producer.