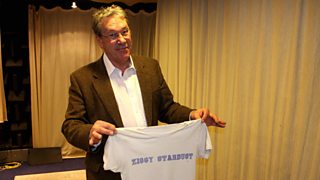 Tim Bentinck - aka David Archer
Timothy Bentinck (David Archer) on his Ziggy Stardust t-shirt:  
"I first saw David Bowie live at the Friars Club in Aylesbury in 1972. I went on to see him 13 times - totally blown away. I had this T-shirt made as there was no merchandise in those days. As you can see, I was a much thinner 19 year old!"
Felicity Finch (Ruth Archer) sported a very fetching Leonard Cohen T-shirt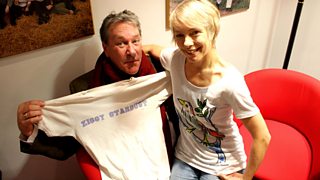 Timothy Bentinck and Felicity Finch (David and Ruth, The Archers) - wearing band t-shirts
Felicity Finch on Leonard Cohen - and her t-shirt:
"My older brother in Canada sent me this t-shirt last year. It's a painting Cohen did himself depicting Bird on a Wire - a beautiful song he wrote in 1969, on the Greek Island of Hydra, where he lived for many years. It was inspired by the image of a bird balancing on the first telegraph wire to be erected on the island. Mother, brother and 21 year old niece (3 generations!) all love him... there can't be many artists manage that...
Leonard Cohen is a brilliant performer. If you've never seen him live, go before it's too late.  My brother re-introduced me to Cohen in 2008 when he started touring again. I managed to get a ticket for the Albert Hall. It was an unbelievably wonderful concert. I saw him again this Summer at the 02 Arena, where he managed to create an incredible intimacy, despite the size of the venue..."
Tom Graham (Tom Archer), dug out his Nirvana t-shirt from the early '90s. I caught him reading his script, between takes...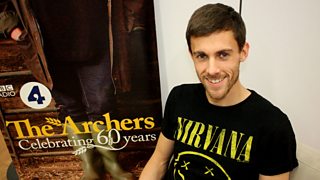 Tom Graham (aka Tom Archer in The Archers)
A few stars from The Archers have worn their old tshirts in to the recording studio