The Pet Shop Boys with Archers actors Ian Pepperell, Alison Dowling and Carole Boyd
Pop legends Pet Shop Boys have saved the day for the residents of Ambridge by stepping in at the last minute to headline our inaugural music spectacular, Loxfest.
Having sacked troubled Quaintance Smith, Elizabeth Pargetter was left wondering "what have I done to deserve this?" But now resourceful Roy Tucker has turned Loxfest "Electric" by securing the iconic Pet Shop Boys pop duo for the main stage on closing night.
Neil Tenant and Chris Lowe – both long-term Archers fans - said: "It's a thrill for us to enter the world of The Archers, the UK's most famous radio drama." 
Their special guest appearance, which was recorded at the illustrious Maida Vale Studios in July, will air on Monday 25th August at 7:02pm.
What will Neil and Chris make of Ambridge? Will Loxfest be a success – or a sin?... Listen to find out!
Listen to the moment Roy gave Elizabeth the news:
Roy has lined up an iconic pop duo to headline the final night of Loxfest.
Archers Editor Sean O'Connor said:  "Loxfest is the first time The Archers has mounted a summer music festival on this scale, so we're completely thrilled to have secured an iconic British act- Pet Shop Boys- to headline for us. It's been great fun putting the whole line up together with help from Steve Lamacq at 6 Music.
There really is something for everybody this Bank Holiday Weekend in Ambridge with appearances by the local favourites The Midnight Walkers, Slow Club and Luke Sital-Singh. We even have a troupe of chanting Tibetan monks and a chap that plays the digeridoo. Who could ask for anything more?"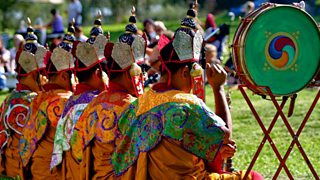 The Tashi Lhunpo Monks, appearing at the fictional Loxfest - The Archers on BBC Radio 4
The monks in question are from the Tashi Lhunpo Monastery – several groups and organisations have contacted the Archers team offering to take part at Loxfest. We couldn't accommodate them all, but the monks definitely offer something a bit different (we're sure Lynda Snell will enjoy them!)
The 6 Music effect…
Loxfest has been attracting star names to the village with a little help from our friends at BBC Radio 6 Music. Not least, presenter and Archers super-fan  Steve Lamacq, who told us:
"Loxfest is The Archers storyline we've been waiting for. As someone who spends a lot of time covering festivals for the BBC, it was one we really wanted to be involved with. So when we first heard the rumours about the festival at the start of the year we offered up our services, helping to suggest bands that might fit the bill. I'd have probably have gone down and helped them put up the security fencing if they'd asked!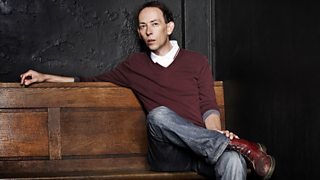 BBC Radio 6 Music Presenter Steve Lamacq
"I've been a fan of The Archers off and on for more than a decade, but got hooked again about three years ago. You'd be surprised how many Archers fans there are in the music industry. Even the former Stage Manager at Reading Festival would come up to me and ask to borrow my pocket radio when The Archers Omnibus came on.
"I'm looking forward to seeing how the Festival goes. It's not as easy as some people think launching a festival these days, but despite a few hitches and bad press in the run up, I've got high hopes for it."
In the run up to Loxfest, Steve (aka 'Lammo') invited a few Archers stars on to BBC Radio 6 Music's Roundtable: The Archers Special to discuss some fresh music tracks as well as their own musical tastes. Steve also had plenty of questions about their Archers characters Fallon Rogers, Ed Grundy and PC Harrison Burns, which he put to the actors who play them (Joanna Van Kampen, Barry Farrimond  and James Cartwright – pictured with Lammo, who's seen here proudly holding his own Loxfest ticket):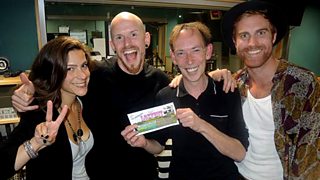 6 Music presenter Steve Lamacq with Archers cast members