Keeping safe with large animals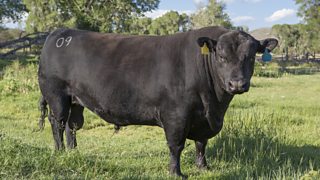 The ghastly incident at Bridge Farm reflects the real-life truth that farming is a very hazardous occupation. Only 1% of workers in the UK are to be found on farms, but 20% of deaths at work happen there.
In 2012/13, there were 29 fatal injuries to farmers and farm workers. You can read the horrifying story of a farmer who was crushed by a cow – fortunately not fatally.
Rick Brunt, head of agriculture at the Health and Safety Executive, explains the particular dangers of working with livestock. He also gives advice to members of the public when near livestock – particularly if they are walking dogs.
There are many risk factors for those involved with farming, especially when handling large animals. Four or five people are killed each year by cattle. Even if injuries are not fatal, they can be distressing, costly and lead to significant time off work.
Handling cattle always involves a risk of injury from crushing, kicking, butting or goring. The risks are greater if the animals aren't used to being handled, or if they have young with them.
The risks from any animals are greatly reduced if the farm has proper handling facilities, which are in good working order – including a race and a crush suitable for the animals being handled – and if the workers are properly trained and competent.
Bulls
A bull can weigh as much as a family car, and can kill when he is being playful just as easily as when he is angry. If a bull is new to the farm, it is important to know how he has been handled by previous owners and what he is used to.
Reducing risk
Anyone working with animals could significantly reduce the risk of injury if they:
Always use a well maintained, correctly designed race and crush and never rely on  makeshift gates or pens
Take extra care when dealing with animals not used to being handled, such as those from hills or moorlands
Never take any animal's quiet behaviour for granted, especially male animals such as bulls or rams
Never underestimate the protective instincts of a newly calved cow
Avoid keeping cattle they know to be aggressive
Always plan an escape zone, and ideally design this into the structure of pens
Always consider their age, agility and health when deciding what tasks they can undertake
Make sure they are adequately trained and competent to work with cattle
Children
The catalyst for Tony's injury was Henry's sudden appearance in the yard. This is Rick's advice:
It is important to think of the farm as a workplace that children are introduced to, rather than a home where work is also carried out. Protecting children from dangers and risks they don't recognise is essential for the farming industry,  to reduce the number of children that are killed on farms.
A worthwhile approach is to consider parts of the farm and farm house/garden as different zones. Some are where children are safe to play, and others are where they need to be supervised, or are only allowed when they are old enough to understand the risks.
It is also important to recognise the limitations of being able to care for or supervise very young children when you are directly involved in work.
The public
On the whole, compared with the number of people enjoying access to the countryside, incidents are rare. However, In 2012/13, there were seven fatal injuries to members of the public on farms. Predominantly this involves walkers with dogs being attacked by cows with young calves.
Do


Stop, look and listen on entering a field
As you walk through, be particularly aware of bulls, rams, and cows with calves.
Take the best route. Keep to paths where possible but give livestock plenty of space.
Try to avoid getting between cows and their calves.
Be prepared for cattle to react to your presence, especially if you have a dog with you.
Move quickly, quietly and calmly
If possible, walk around the herd.
Keep your dog close and under effective control on a short lead around cows and sheep.
Don't
Don't hang onto your dog. If you are threatened by cattle, let the dog go to allow it run to safety.
Don't put yourself at risk. Find another way round the cattle and re-join the footpath as soon as possible.
Don't panic or run. Most cattle will stop before they reach you. If they follow, just walk on quietly.
Rick Brunt is head of agriculture for the Health and Safety Executive.
Further advice:
Walkers in fields with livestock
General precautions for farmers with livestock
Reducing cattle handling accidents
Taking care of children on farms with livestock