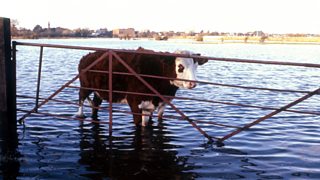 Cow in flood
We explain how and why listeners are hearing about floods in The Archers

It's widely known that The Archers can mirror topical occurrences on-air. Although the programme is recorded in blocks three to six weeks before transmission, the agile nature of radio means that we are able to rewrite and re-record scenes on the day of transmission. 
It costs money to do this, of course, and it's disruptive of an already tight production schedule. So we are selective about which events find their way into the programme. Usually no more than a handful of episodes per year get the "topical insert" treatment.
We first managed to squeeze in a mention of the terrible flooding last Monday (10 February) when
Ruth
reported the latest to
David
in the lambing shed. And because we were in studio for several days last week, we were able to reflect the developing situation in other episodes during the week with (comparative) ease.
But given the unprecedented scale of this emergency, Archers editor Sean O'Connor felt that a few mentions were not enough. Sean says "We felt that we had to respond to the anguish that real-life farmers are going through at the moment – and the way in which other farmers are rallying round to help them."
David and Ruth decide to help the flooded farmers (Feb 2014)
Sean assembled a small team of Archers colleagues, who developed a storyline in which David, Ruth and
Tony
come to the aid of a beleaguered farmer in Worcestershire. The new scenes were written by scriptwriter Graham Harvey in consultation with his successor as agricultural adviser, Steve Peacock. The new scenes replace existing content which has been stripped out or condensed.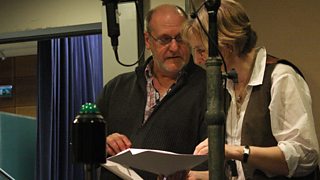 David Troughton (Tony Archer) and Rosemary Watts (Producer)
Recording the new material in studio. Thanks to Andrew Smith for the photo.
I won't spoil things by saying how the story develops, but we hope that it reflects in a small way what is happening on British farms right now.
The Bull
Ironically, the storyline about the flooding in the Bull cellar is not part of the new material. That was planned in early November, well before the floods took hold. When we were writing it, for all we knew the ground could have been covered in snow or we could have had the driest winter on record.
Midlands Today
Our regional news colleagues took Timothy Bentinck and Felicity Finch (David and Ruth) to see a real-life Worcestershire sheep farmer who was coping with the floods. The report is on
Midlands Today
tonight (Wednesday 19 February) at 6.30pm
Keri Davies is an Archers scriptwriter and web producer.
Midlands Today
Information on floods from the Environment Agency