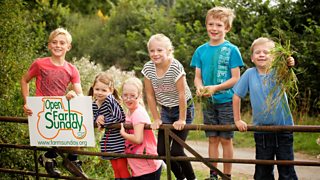 Open Farm Sunday 2015
Experience all the Ambridge Open Farm Sunday action at your local farm!
Open Farm Sunday is managed nationally by the charity LEAF (Linking Environment And Farming). Around 1.25 million visitors have attended OFS events since the first in June 2006. Over the years it has grown to become the farming and food industry's annual open day.
Many of you will have followed Open Farm Sunday over the past few years as a number of farms in Ambridge have opened to the public. We're delighted that Brookfield and Berrow Farm are both opening their farm gates this year. Open Farm Sunday is a great opportunity for these two hugely contrasting farm businesses to showcase the work they do, not only producing food but also managing the countryside for wildlife.
These events are actually part of a real life national initiative which this year is celebrating its tenth anniversary. Around 400 farms are opening on 7th June from Land's End to Orkney. Why not go along to you own local Open Farm Sunday event and find out what farming is all about on your local farm.
Every year hundreds of farms open to the public, supported by friends, family, fellow farmers and industry partners, who all work together to ensure visitors not only have a great day out but that they have a unique insight into what modern day British farming is all about. Many farms are at the heart of their local community, just as Brookfield Farm is in Ambridge, and Open Farm Sunday is the ideal time for everyone to come together and celebrate British farming and food – as well as discovering more about what happens beyond the farm gate!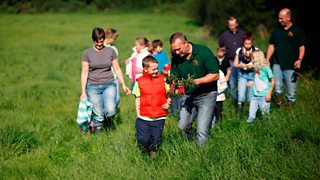 Open Farm Sunday guided events
British farms are unique and produce a huge variety of foods – from meat and dairy through to cereals, fruit and vegetables. Open Farm Sunday events are organised by the host farmer so every event is different. Smaller events might offer a farm walk - with the farmer as a guide, who will explain how and why they care for the countryside, share how they grow crops or care for their animals. Some larger events include tractor and trailer rides, others include a chance to see cows being milked or sheep being sheared. A few events have grown to become mini county shows with market stalls selling local produce, craft activities for children and more.
Farmers put a huge effort into ensuring the Open Farm Sunday offers something for the whole family – from displaying the impressive range of farm equipment and technology they use every day, to activities such as pond dipping, nature trails and tractor and trailer rides.
So as well as listening to all the Open Farm Sunday action in Ambridge – visit your local farm and experience all the fun for yourself! To find an event near you visit www.farmsunday.org. You can also follow us on Twitter @OpenFarmSunday / #OFS15 or like us on Facebook. But whatever you do make a date for this Sunday 7th June and join us in celebrating British farming and food.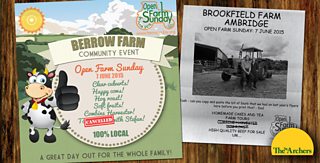 Berrow Farm and Brookfield are going head-to-head for Open Farm Sunday this year