Pat and Tony take over at Bridge Farm (Pat Gallimore and Colin Skipp)
At 140 acres, plus 32 rented from other landlords, Bridge Farm has seen innovation, growth and disaster, family conflict and tragedy.
It used to be one of several tenanted farms on the Berrow Estate. Pat and Tony Archer took it over on the death of the previous farmer in 1977. Their tenancy started on Lady Day (25 March) 1978, with the hens and dairy herd they'd had at Willow Farm.
But at this time, they weren't organic farmers. Pat had always been her own person (she had actually proposed to Tony), and by 1984 she had become increasingly politicised. She memorably replaced their regular Daily Express with The Guardian,  and supported CND and the Greenham Common protests. Tony may not have realised how close he had come to losing his wife to the (male) lecturer of her women's studies course. But he knew he was drifting from her, and his suggestion of going organic provided a common cause that drew them back together.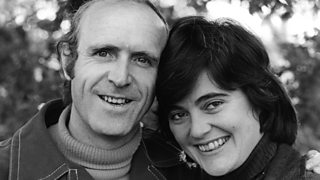 An early shot of Colin Skipp and Pat Gallimore (Tony and Pat Archer)
The next four years of conversion weren't easy, but they gradually built up their acreage of organic vegetables and wheat and became involved in the wider organic movement.
In 1992, they opened an on-farm shop, which closed in 1998 as their dairy processing expanded. But Pat was still keen for them to have their own outlet. On 27 July 2000, Ambridge Organics opened in Borchester, selling a wide range of organic products (bought-in and home produced) under the management of daughter Helen.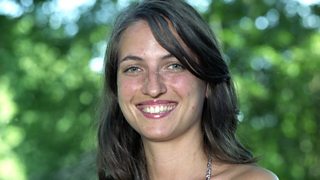 Helen Archer in younger days (Louiza Patikas)
The following year they started a veg box scheme, delivered by Mike Tucker on his milk round.
Pat the processor
Once certified, Bridge Farm's organic milk attracted a healthy premium. But Pat started to think that they could turn an even better profit if they were to convert some of it to added-value products.  After research and some trial and error, their new dairy block opened in September 1988. They were soon supplying yoghurt and butter to local outlets and a fancy deli in London.
Although there were some ups and downs, the business found its feet. In 1991, Pat was ready to expand the range further. By the summer, the dairy block was extended and Underwoods department store in Borchester was stocking Bridge Farm ice cream. With a  range of imaginative flavours (Christmas Pudding, anyone?) and a rave review in Borsetshire Life, the new line was quickly established.
In 1995, expanding Underwoods wanted to increase their orders significantly. Pat bought a new van and cold store and The Bull's barmaid Clarrie Grundy retrained as a dairy worker. More and more outlets followed, so two years later there was a further £6,000 extension of the building More workers were taken on, some successfully (retired teacher Colin Kennedy), others not so  (yes you, Tracy Horrobin).
After Colin retired fully in 2009, Susan Carter joined her friend Clarrie on a part-time basis. And Vicky Tucker filled in for a couple of months after Clarrie broke her wrist. The dairy which had started with such small beginnings had become a major profit generator for the farm.
Blessed are the cheesemakers
Although Pat had initially considered making cheese, it took her daughter to bring the idea to fruition. In 2001, Helen started to spend time with established cheesemakers and research traditional local cheeses. The following year saw the first commercial batch of Borsetshire Blue. Unfortunately, it was horrible and had to be fed to Tom's pigs.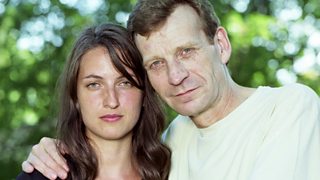 Helen and her ill-fated partner Greg Turner (Louiza Patikas and Marc Finn)
But after some soul-searching – and expert advice –  Helen managed to produce a tasty product which was formally launched in September 2002. Five years later, it won Silver in the  British Cheese Awards, by which time Helen was also making another line – Sterling Gold – in conjunction with Oliver Sterling. We have no idea where they got the name for that cheese...
John's pigs
After Pat and Tony's eldest son John left Brymore agricultural school, he surprised his parents by working for a year with his uncle on Brian's nearby intensive holding, Home Farm. It was a big contrast to his parents' small, ethically-driven operation.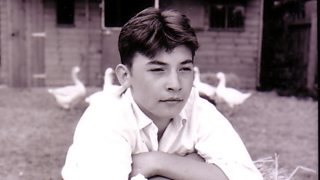 John Archer in 1987 (Sam Barriscale)
Keen to begin making money on his own account, in 1993 John decided to go into pig production in collaboration with experienced pig man Neil Carter. His parents sniffed at the Conservation Grade standard to which he raised his small herd. Nonetheless, enterprising John turned a profit. He had difficulty in finding a permanent home for the operation and in 1996 decided to go organic, enabling his parents to welcome his first 20 Gloucester Old Spot piglets to Bridge Farm.
The business went from strength to strength – until John's tragic death in a tractor accident on 25 February 1998.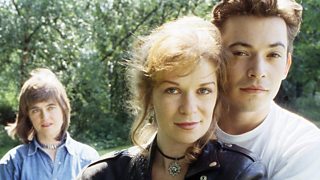 What has John got himself into? (Pat, John and Sharon)
Tom the sausage king
This might have been the end of pigs at Bridge Farm, but for John's younger brother Tom, then 17. He and John's grieving girlfriend Hayley Jordan (later Tucker) kept them going, and even expanded the business, as a practical tribute to his lost brother.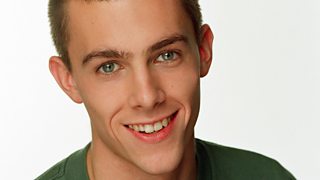 A young Tom Graham (Tom Archer)
They started selling freezer packs to the public, but were left with the problem of the cheaper cuts. The obvious answer was to make them into sausages. Pat and Tony were annoyed when Tom approached his grandmother Peggy Woolley for a loan. In 1999, after some bad feeling, they agreed to fund the project themselves. But it was at the loss of aggrieved Hayley's involvement, as they couldn't countenance a non-family member being a partner in the family business.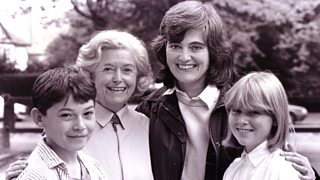 John, Peggy, Pat and Helen in 1987
Too much, too young
The next few years saw steady growth. Then in 2003 a supermarket chain placed an order that would increase Tom's production hugely. Tom bluffed it out. Against the odds – and his parents' caution – he managed to gear up. Peggy acted as guarantor for a £65,000 loan. Tom took on a business unit at Sawyer's Farm and a full-time butcher. Neil became his production manager, with Jazzer a part-time pig man. Neil's wife Susan (then between jobs) took a menial role packing the sausages. By May they managed to produce their first full run.
Tom was soon to find that dealing with a supermarket was a tough business, as they insisted he do in-store promotions and then demanded a price cut. But after 18 months, he was riding high when they expanded his products into other regions of the country. He treated his staff to Christmas lunch at Grey Gables, and promised Susan that she'd soon give up the packing to become his PA.
But the euphoria didn't last. The expansion was not a success and the supermarket discounted Tom's products at his expense. He started to have cashflow problems. Then in July 2005 he got the devastating news that they were cancelling the contract. At a stroke he would lose 80% of his turnover.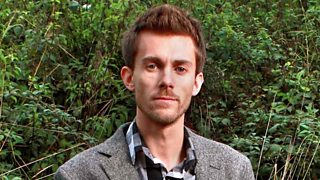 Tom Graham (Tom Archer)
Brian to the rescue
Despite desperate attempts to save his business, Tom was forced to let resentful Neil and Susan go. He put his butcher, Maurice Horton, on part time and replaced his fancy Mini with an old banger. But even these measures weren't enough. With debts of £40,000, he was facing insolvency.
Pat and Tony felt the only solution was to bring his much reduced operation under the Bridge Farm banner. But Tom was reluctance to lose his autonomy to, as he saw it, Tony's hidebound approach. Tony was aghast when his brother-in-law – Brian the barley baron – stepped in. In October 2005, the pigs were moved wholesale to Home Farm, losing their precious organic status.
Despite Brian's initial promises, Tom basically found himself demoted to pigman, as his uncle made all the key decisions. After a year or so Tom started to made progress, when his fiancée Brenda Tucker came on board with some innovative marketing ideas. But having had his fingers burned before, Tom had a real falling out with his senior partner when Brian courted a supermarket.
The last straw for Brian came in 2008, when Tom unilaterally pulled out of the partnership to take his pigs back to Bridge Farm.
Buying the freehold
An essential part of the Bridge Farm real estate is the old barn which they use to pack their vegetables for the organic co-operative, and their own veg boxes. Imagine Pat and Tony's horror when in 2008 their landlord (by now the property company Borchester Land) applied for planning permission to convert it into a four-bedroomed house. This was especially galling as the company was chaired by Matt Crawford, the partner of Tony's sister Lilian.
With the aid of a consultant, and a local petition against the conversion, they managed to persuade the district council to reject the proposal. But after the bruising experience, Tom and Helen to convinced their parents that they should be free of their rapacious landlords for good. As a mark of his commitment, Tom wound up his partnership with  Brian (who was furious about it) and brought his pigs back from Home Farm.
Matt drove a very hard bargain and it was only at an big financial stretch that they could afford the final price of £825,000.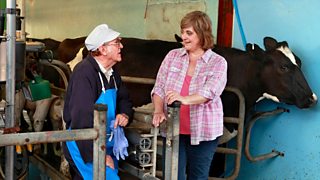 Tony and Pat in the milking parlour (Colin Skipp and Pat Gallimore)
Wetland waste
Now saddled with a big mortgage, it was bad news indeed when in February 2009 – just a month after they had taken on the freehold – the Environment Agency traced pollution in Heydon Brook to a collapsed drain under the yard. Rather than a simple replacement, Helen championed a clever system of interlocking lagoons, which not only purified all their waste water but eventually provided a beautiful habitat for over 20 bird and 30 aquatic and wetland species.
E Clarrie
The run-in with the authorities over the drainage was nothing compared with the storm that erupted in 2011. On 18 July, environmental health officers informed Pat that an outbreak of E coli 0157 had been linked to Bridge Farm ice cream. It was soon traced to Clarrie, who had suffered an upset tummy when she was off work, and had miscalculated the statutory 48 hours before returning. The bug hospitalised several people; two children and three adults seriously.
As gossip and headlines proliferated, all Bridge Farm's products were tainted by association. Despite her anger at Clarrie, loyal Pat resisted Tom and Helen's urging to sack her and make a public statement that they had done so.
No matter what they tried, they could not staunch the bad publicity. An interview on local radio was a particular disaster, as Pat's businesslike reassurances were intercut with emotional outpourings from the mother of one of the victims, little Milly Robson. It was the final straw for Clarrie, who felt she had no option but to resign.
Milly eventually recovered, and Pat and Tony were relieved not to be prosecuted. But they faced a £10,000 penalty from Underwoods, the loss of many of their customers, lawsuits from the victims and a ruined reputation.  To avoid being dragged under, Tom reverted the branding for his meat products to 'Tom Archer'.
With income slashed and  the bills mounting, Tony reluctantly decided to approach his mother, Peggy Woolley, for help. But when her husband Jack had an untimely stroke, Tony didn't feel he could burden her. After Jennifer proved impervious to hints, help came unexpectedly from Tony's other sister, Lilian.
But they needed to take radical measures, eventually accepting that the Bridge Farm brand was a dead duck. By the end of the year they took the decision to re-launch all their products under the Ambridge Organics label. As business began to trickle back, they were eventually able to re-employ a penitent and  grateful Clarrie.
The next generation
But the strain had taken its toll on Tony, who suffered a heart attack on 28 February 2012. As he recovered, the divergence of opinion over the direction of the farm came to a head. Tom forced through one radical move after another. His parents despaired when he decided to re-launch his latest product –  gourmet ready meals – with bought-in non-organic pig meat.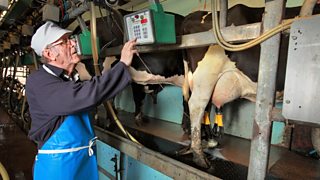 Tony in the milking parlour (Colin Skipp)
But worse was to come, when in March 2013 Tom brought a completely unexpected recommendation to the table. They should sell the dairy herd, which had defined the Bridge Farm for 35 years, and just buy in milk for Pat and her team to process.
To his parents, Tom's practicality and pragmatism threatened to sweep away the heart and soul of their life's work.
Keri Davies is an Archers script writer and web producer
Learn more about the characters in our Who's Who: