Today we are announcing the closure of The Archers message board. It will close, in two weeks, at 12pm on Monday 25 February. All of us at Radio 4 and on The Archers team understand this news will be disappointing for regular users.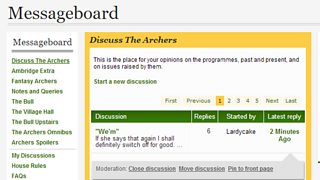 The Archers is extremely popular on digital platforms. More than 120,000 users regularly visit the website every week, the podcast is three times more popular now than it was in 2008 with downloads in the millions - and more and more listeners are talking about the programme on social media platforms such as Facebook and Twitter.
Amid that growth, traffic to the message board has reduced greatly. While there are around 10,000 regular visitors to the message board, the number of people who contribute actively has dropped below a thousand.
For some time, the BBC has been moving away from message boards, as Ian Hunter explains in this blog post, and there are now no other BBC Radio message boards and only two related to other BBC output. 
The Archers community has been a rich, witty and fun space for fans over the last decade and we acknowledge the strength of the community. We hope that you continue to contribute to Archers discussions elsewhere online.
We will still be listening to you and we welcome feedback via this blog, on our Facebook page and through Twitter where Tayler and Keri will remain as our hosts. All feedback will be collated and shared with the programme team each week and published on our blog.
The board's vast archive will remain online. We're giving notice so that you can make plans to migrate to alternative Archers forums and spaces, say goodbye to fellow Archers board users and discuss this move.
We will respond to comments and questions about the closure on this blog later in the week.
Nigel Smith
Interactive Editor, Radio 4 & 4 Extra
Other places to talk about The Archers online
The Archers Facebook page – official page run by Tayler and Keri

The Archers on Twitter – official profile run by Tayler

Archers Addicts Forum - fan forum