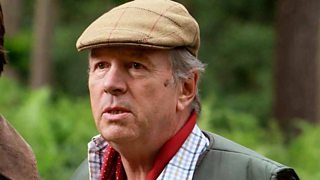 Brian Aldridge (Charles Collingwood)
Borchester Land
As Brian faces a hostile takeover, here's a potted history of the company which has done its best to change the face of Ambridge – Borchester Land.
In July 1997, a consortium of business people formed Borchester Land (BL). The company was a vehicle to buy the Berrow Estate, which was being sold by Simon Pemberton.
The estate comprised 1020 acres of  Ambridge farmland, two tenanted holdings: Bridge Farm and Grange Farm, and a set of business units converted from buildings at the former Sawyer's Farm.
Brian Aldridge was soon revealed to be a member of the consortium. But the remainder were urban types who knew little about farming. The company was chaired by lairy Matt Crawford, originally from Peckham, who initially didn't much like the countryside because it was too quiet.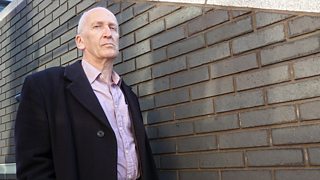 Kim Durham (Matt Crawford)
Leisure complex
One of Matt's first proposals was to build a leisure complex on Estate land. Appalled Brian's objections were vindicated when an accountant's report pointed out the capital gains losses they would have to sustain.
Grange Farm
Matt had little patience with the Grundy family, who chaotically ran the ramshackle Grange Farm. In 2000, they were evicted for non-payment of rent. The farmhouse and 50 acres were sold to the much more acceptable Oliver Sterling.
Grange Spinney
Matt's big guns were back in 2001. After a change to the council's Local Plan, BL applied for planning permission to build a large housing development on some of their land near the historic church of St Stephen's: 30 four- and five-bedroom houses and eight low-cost homes. A few local businesses and young people were in favour. But most of the village was outraged. Brian, as the local face of BL, was in great discomfort.
Brenda Tucker, then working for Radio Borsetshire, unearthed indications of corrupt links between BL director Andrew Eagleton and district councillor Stephen Chalkman. But she handled it badly, accusing Chalkman live on air and nearly losing her job. Despite the disgrace, she eventually brought undeclared evidence to Brian that Chalkman's wife would benefit from the development.
When confronted, Matt blustered, then tried to bribe Brian, and finally caved. They would reduce their proposals. After further negotiation, in 2003 six low-cost dwellings and 12 luxury homes were built:  Grange Spinney.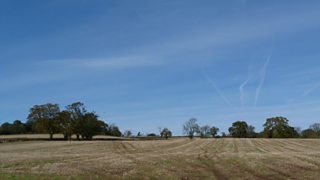 Arable contract
Brian had negotiated a five-year contract to farm the 'in-hand land'. But by 2001, he was sweating, as the Estate had not delivered the farming income he had projected. Unsympathetic to Brian's excuses of a market slump, rising fuel costs and poor weather, the board appointed new contractors.
It was 2006 before Home Farm won the contract back. Brian's step-daughter Debbie Aldridge would manage the contract from Hungary while his step-son Adam Macy would carry out the work.
The shoot
Although not a natural countryman, Matt did like shooting, especially as a means of entertaining business contacts. He was soon interfering in the shoot, driving up numbers to the detriment of the wild native birds.
The Home Farm and Estate shoots were run in conjunction with the shooting in Grey Gables Country Park. When fading Jack Woolley sold the hotel in 2006, Borchester Land bought the park to consolidate the shoot. It also bought the adjoining land land used by Ambridge Golf Club.
Skylarks
Matt doesn't have much of a green agenda. In 2008, he forced Adam to plough up set-aside land at Quarry Bank. Pip Archer was appalled at the destruction of a rare skylark habitat. It was a newcomer to the board, their former solicitor Annabelle Schrivener, who encouraged Matt to take a cannier line and be a little more accommodating with local environmentalists.
Matt eventually received praise in the local press when he agreed that Adam could install skylark plots in the adjacent Forty Acre.
Bridge Farm
In May 2008, Pat and Tony Archer were dumbstruck. Their landlord (BL) had applied for planning permission to convert the barn they used as their vegetable packhouse into a four-bedroom house. This caused huge family friction, as Matt had by now shacked up with Tony's sister Lilian Bellamy. Tony's brother-in-law Brian protested that the decision had slipped through without him noticing.
Pat and Tony mobilised a protest campaign. Brian's daughter Alice touted their petition around the family. At a planning committee meeting in July, Pat spoke convincingly of the importance of the building to Bridge Farm's business, and the proposal was rejected.
But it hardened Pat and Tony's determination to throw off the yoke of their landlord. Matt drove such a hard bargain that they nearly gave up. But pushed by their offspring Helen and Tom, they just scraped together enough finance for the agreed price of £825K.
Matt is ousted
Matt's control of BL ended in 2009, when he was prosecuted for fraud conducted by an investment company he jointly owned with Stephen Chalkman (yes, him again). Annabelle choreographed his demise, and his replacement. Not only did Brian take over the chair, but Home Farm managed to retain their farming contract. Brian was riding high.
Borchester Livestock Market
Because of traffic problems, South Borsetshire District Council had long been keen to move the livestock market from its potentially lucrative site in Borchester. In 2010, Brian conceived an ambitious plan. He negotiated the tricky purchase of 25 acres of farmland on the by-pass. BL put forward plans for a new market fit for the 21st century.
Things were looking good until September, when Matt revealed that he had bought a small 'ransom strip' – land that was essential for access to the site. As well as an exorbitant sum, Matt demanded BL shares and a seat on the board for Lilian. After difficult arguments with the board, Brian eventually offered Lilian a directorship of the operating company – Borchester Market Developments (BMD). And Matt still made a pile of cash out of the deal.
In 2011 as work progressed, the council received a bid for the old market site from a supermarket. BMD agreed to speed up the construction, against Brian's better judgement because of severe penalty clauses if they missed the deadline. When the diggers turned up a vast cache of bones from a former Foot and Mouth Disease burial site, it nearly jeopardised the whole project.
Despite this setback, the market opened on time, with only a few teething troubles, at the beginning of December.
The 'mega dairy'
The market was a walk in the park compared with Brian's next scheme. In September 2011, Debbie proposed setting up a large-scale dairy operation. 1500 cattle would be kept permanently indoors, and their slurry would feed an anaerobic digester supplying power to the grid.
Brian put the plans to the board. But when Adam learned of them, he refused to cooperate, as it was anathema to his philosophy of farming. Brian was forced to tread a difficult path, contracting other farmers to  supply feed and silage for the cattle.
Meanwhile, public anger quickly grew. Many people were disgusted at the prospect of cows who would never see daylight or fresh grass. Brian was at odds with members of his extended family. BL countered a difficult public meeting, rowdy demonstrations at their market and critical press coverage with a PR campaign and a glossy DVD.
In April 2012 the council approved the application. But it still wasn't plain sailing. When one of the contracted farmers pulled out, Brian unilaterally decided that Home Farm would have to step in. Adam came close to throwing it all up and moving away but he and Brian eventually reached a shaky détente.
Building work began in September. In January 2013, highly qualified Rob Titchener started as herd manager, and the first heifers arrived in August. In a bid to belie the vast industrial nature of the buildings, Brian and Rob named the enterprise Berrow Farm, to the scorn of its critics.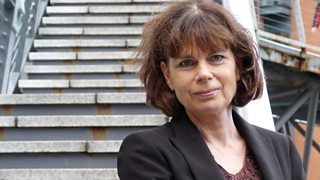 Julia Hills (Annabelle Schrivener)
Damara Capital
But Brian's success with the market and dairy were short-lived.  He was aghast when in 2014 aggressive Damara Capital became majority shareholders of BL. Brian tried to cling to control. But he was replaced as Chair, ironically by his former kingmaker Annabelle Schrivener.
Keri Davies is an Archers scriptwriter and web producer.
Learn more about Brian, Matt, Oliver, Lilian, Adam, Brenda, Pat, Tony, Helen, Tom, Alice, Annabelle, Rob – and the actors who play them – in our Who's Who.