As Helen's belongings sat in bin bags in the hallway at Bridge Farm, Lilian empathised with her niece about sorting through them. She had to face a similar task when Matt left.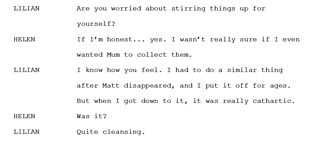 In early 2015, while Lilian was on holiday Matt did a runner. He cleaned out the bank accounts, safes and took anything else of value. On her return, Lilian called PC Harrison Burns thinking there had been a burglary but then the discovery of a note which read "Sorry, Pusscat" made her realise the truth.
It was galling for Lilian and it sapped her of her usual sparkling bonhomie. Nights in The Bull chatting with Jolene and dinners at Home Farm with her ever-supportive sister Jennifer helped her pull through this dark time.
To add insult to injury, Lilian had to pick through mountains of paperwork to fully assess the impact Matt's departure had had on her finances. It wasn't a pretty sight so Lilian moved into Home Farm and rented out the Dower House. Cue Justin Elliott.
Lilian felt out of sorts having to make a fresh start at almost 70 years old. It was perhaps this that led her to take the drastic action of having botox. The results shocked Brian but under duress from Jennifer he told his sister-in-law she looked stunning. Whispers about Lilian's new look also went round The Bull. Kenton said he almost didn't recognise her at first look.
Nearly a year on, Lilian has bounced back from the all-time low Matt inflicted on her and she's able to lend her support to Helen.