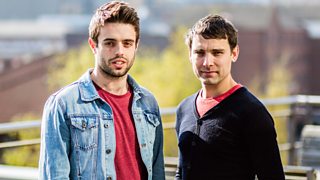 Toby and Rex Fairbrother (Rhys Bevan & Nick Barber)
The Fairbrother boys are in town. But who are they and what should we make of them?
Here's a bit of background on the Fairbrother family (Warning: contains potential gossip fuel)
Fairbrother is an established Ambridge name, so most locals will know the name. Anyone who lived in the village in 1950s will remember the Fairbrothers.
Squire Lawson-Hope was the principal landowner in the Ambridge area when The Archers started in 1951.
The Lawson-Hopes sold up in 1954. The estate was broken up. However the bulk was spilt between two purchasers: George Fairbrother and the Bellamy family – father and son.
George was a widower with one daughter - Grace. He remarried in 1952 to Helen Carey. They had one son - Robin Edward (Grace's half-brother), born in 1953. Robin is Rex and Toby's father.
In 1959 George Fairbrother sold his land to Charles Grenville. He, Helen and Robin left the village. At some point Helen spent some time in Kenya.
Elizabeth Archer (now Pargetter) and Robin Fairbrother - the affair:
In March 1987, 20 year old Elizabeth was seeing 'Rob', a 34 year old wine importer. Jill discovered Rob's identity – Robin Fairbrother. She refused to meet him.
Elizabeth couldn't understand her mother's reaction, and planned a surprise party at Grey Gables for Jill to meet Robin. Caroline let the cat out of the bag and Jill was not amused. Elizabeth still couldn't understand Jill's attitude - Phil had met Robin and liked him! This further upset Jill, who then found a photo of Grace on Phil's desk.
Walter Gabriel told Jill to stop being jealous. He, Martha and Mrs P met Robin, and Jennifer asked Robin and Elizabeth round for dinner. Other dinner invitations followed from Caroline and Matthew, and from Shula and Mark.
A month went by before Elizabeth found out from Nelson that Robin was married. He was separated but was still seeing his wife from time to time. Elizabeth broke this news to Jill, who had been about to relent and ask Robin over for lunch.
A few days later whilst doing a restaurant review at Nelson's, it all became too much for Elizabeth and she broke down in front of Nigel, Shula and David. When Nelson told her a few days later that Robin had gone back to London, she feared the worst. Elizabeth was distraught at his disappearance. When he wrote a letter to Jill declining her invitation to tea at Brookfield, Elizabeth felt the whole village knew about it.
Upset that she hadn't heard from Robin, Elizabeth felt the need to cover for him to Tom Forrest and Sid. Meanwhile she rang Robin's home. His wife answered the phone and told Elizabeth that Robin didn't want to talk to her.
Jill felt Elizabeth blamed her for the failure of her relationship with Robin. But after a day moping in her room, Elizabeth received a dozen red roses from Nigel and a lecture from Pat, and pulled herself together.
A few days later Elizabeth heard that Robin was back, and rushed to Nelson's wine bar to see him. He told her he couldn't see her any more - he was going to try and save his marriage. Elizabeth poured a glass of wine over his head and left Nelson's in a hurry, scratching David's car in the process...