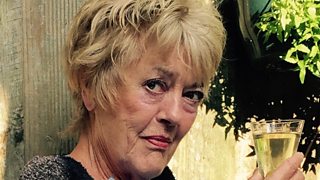 The actress Carolyn Jones has died peacefully at home after a short illness aged 77. Having started her career with Olivier's celebrated National Theatre Company at the Old Vic, she played most of the theatres in the UK. She became a familiar face in the golden age of British drama in the 1970s and 80s and is best remembered for playing Sharon Metcalfe, the tough-talking, soft-hearted garage secretary in Crossroads from 1977 to 1983.
Carolyn married actor Jeremy Mason in 1969. Jeremy's father Edward J. Mason had co-created The Archers and Jeremy went on to appear as Roger Travers-Macy in the series, husband to Jennifer and father to Debbie and Adam. In 2016, Sean O'Connor, then editor, created a role especially for Carolyn, Ursula the villainous mother of the abusive Rob Titchener.
Carolyn's last appearance in The Archers was on 27 January 2018 when Ursula surprised Alan at St Stephens desperately searching for answers as to her son Rob's whereabouts.