'Its all smoke and mirrors in AmXtraLand! FAB-BEW-LUS' - Listener discussions to 4 September 2013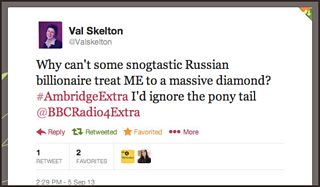 Post from @Valskelton on Twitter
It's been a busy week as listeners discuss the curse of the Ambridge roses. There's also murderous advice for Lynda and Kathy, a farewell to Pip as she heads to Yorkshire and sympathy for Darrell.
And as Ambridge Extra came to its "utterly thrilling" conclusion, listeners share their thoughts on this series.
Here's my pick of online discussions between 29 August and 4 September 2013
It's not been a good year for the roses… After Usha's were cut down in their prime, and Jennifer's felled by weed killer, many wondered if it was sabotage?
They seem to be doing some version of 'And Then There Were None' with roses in #thearchers #deadheading (@doubleagent73 on Twitter)
Jennifer's dead roses are looking more like a show-stopper every episode #TheArchers (@Teldeb on Twitter)
Ooor Rooth will win at this rate! #TheArchers (@hivaldihandmade on Twitter) 
Lynda's peace roses to be dead by Tuesday klaxon #TheArchers (@hugzee on Twitter)
Blimey that flower and produce show brings out the worst in Ambridge ! #thearchers (@gilly38 on Twitter)
The wars of the roses. I predict Sabrina will win with her bloomers. (Caroline Smedley on on BBC The Archers Facebook page)
Over at Grey Gables, Ray has everyone talking. He and Martyn have some listeners grinding their teeth and shouting at the radio!
Forget the Flower and Produce show #TheArchers . Who is going to win the Fastest Ruin of a Hospitality Business award? Raymondo or Martyn? (@DianneButton on Twitter)
Next week on #thearchers. Kathy and Lynda swap murders, Ray and Martyn Both die in unrelated freak accidents. (@CelloSuze on Twitter)
All these state-of-the-local-leisure-facilities storylines in #thearchers are getting a bit dull. Might take up jewellery-making though. (@churlishmeg on Twitter)
So glad Jennifer told Kathy that Ray was ´that dapper gentleman with the moustache´. Now I can get that disturbing Bernard Manning-image out of my mind. Ray looks more like a Terry Thomas! Much, much better! (Maarten van den Heuvel on BBC The Archers Facebook page)
I see Ray as 20% Nicholas parsons & 80% Les Patterson #TheArchers (@salvatorRosa on Twitter)
#TheArchers why do I get the idea that Ray's idea of 'atmosphere' is more likely to be Russ Abbot rather than Joy Division! (@voiceofbramley on Twitter)
He'll probably increase the takings. Best ever profits on Ray's watch? (Lorna McLaren on on BBC The Archers Facebook page)
Ray is a breath of fresh air. Looking forward to seeing what other developments he can reap in his 2 week placement. Come on Ray. (Drew Shields on BBC The Archers Facebook page)
By the end of the week, there'll be a wet t-shirt competition, a foam party, and a bucking bronco at Grim Gables (Sara Flossy Brown on BBC The Archers Facebook page)
There's plenty more advice from listeners for Kathy - many hope she'll take it quickly as radios may be at risk…
@BBCTheArchers If Martyn Gibson continues to feature... I may well have to smash ANOTHER radio !  I genuinely fear a Kathy / Gibson romance (@dswebz on Twitter)
Please, please, please can somebody give Kathy the number for a good employment solicitor. Although a contract killer could be cheaper (Clare Midgley Jewitt on BBC The Archers Facebook page)
I think 'tab' was the key word in tonight's episode. Get your calculator out Kathy, I think what he owes should keep the golf club afloat for a year or two. (Stephen Ah Burroughs on BBC The Archers Facebook page)
I adore Martyn for all the hassle he is giving Kathy. In fact I might be a little bit in love... #thearchers (@clioclothed on Twitter)
For goodness sake Kathy. Resign! (@male_val on Twitter)
It was "Goodbye Pip" on Monday – though some wondered what all the fuss was all about?
Aw, bye Pip. Have fun! Will miss you and all your annoyingness. #TheArchers (@Belladax on Twitter)
We'll all miss #stroppyPip *cue montage of her whining and moaning "you don't UNDERSTAND!"* for reasons no one is quite sure of. #thearchers (@ourladyofFlan on Twitter)
Anyone would think Pipsquawk was going to Australia for a year not Yorkshire (Ingrid Marsh on BBC The Archers Facebook page)  
Omg I'm weeping at Pip leaving home!  That's going to be me in a fortnight :( @BBCTheArchers #TheArchers (@ali4horses on Twitter)
@BBCTheArchers bye pip right Josh your time to shine ! (@Isabelharvey on Twitter)
Darrell has some sympathy from listeners though some can't forgive his past actions…
Can't somebody in #thearchers @BBCTheArchers help poor Daryl out? (@AdamsSuzanne on Twitter)
 So sad it could happen to anyone (Jill Luckhurst on BBC The Archers Facebook page)
Shula's got a project. Poor Darrell #TheArchers (@TheVintageYear on Twitter)
So Daniel's going to Yewni, Peep's away for a year to poor Yorkshire, Amy's moved out, and still no home for Darrell. #TheArchers (@MagneticFlea on Twitter)
Darrell is a weak pathetic apology for a dog killing man. He did 'have it all' and he blew it big time. I hope he goes away. (Christine Wilson on BBC The Archers Facebook page)
He may not be the brightest person and he got himself into a stupid predicament but he has more than paid for it. (Lauraine Reynolds on BBC The Archers Facebook page)  
And as Ambridge Extra concluded there are high hopes that Dmitry will turn up in Ambridge - he was a bit of a hit... Some listeners felt that the ending was too neatly tied up. Others said that the series was over dramatic and at times hard to follow, but many enjoyed it, saying that it was "KICKASS" and "utterly gripping"
@BBCTheArchers oh I say! Its all smoke and mirrors in AmXtraLand! FAB-BEW-LUS Darhlings! (@Goldenlady1010 on Twitter)
Okay @BBCTheArchers, I've stuck with Ambridge Extra for 10 weeks and I've got no idea what's going on. (@MarkandDrama on Twitter)
All a bit silly really! (Liz Lord on BBC The Archers Facebook page)
I hoped #AmbridgeExtra wd end in a way that changed #thearchers -e.g. Matt/Lillian split or Bren/Dim in Ambridge. This too NEAT. But was fun (@vencut2 on Twitter)
#AmbridgeExtra stories always end with everyone living happily ever after. Sadly (@Bellevue_BnB on Twitter)
Lost me as a listener - too much Russian with no translations (Neil Hancock on BBC The Archers Facebook page)
Why can't some snogtastic Russian billionaire treat ME to a massive diamond? #AmbridgeExtra I'd ignore the pony tail @BBCRadio4Extra (@Valskelton on Twitter)
Have loved this AE, it was brilliant. Sad that Brenda didn't get her man, please feel free to pass my contact details to him! (Sally Kershaw on BBC The Archers Facebook page)
I don't think we've seen the last of Dimitri (she says hopefully). (Clare Worthy on Archers Addicts Facebook group)
Can't believe Matt has really put Lilian before money!!??? (Susan James on BBC The Archers Facebook page)
I'm so glad Tiger was able to rescue Pusscat!! There's nothing like a rescue mission to refuel passion! #AmbridgeExtra Great Script! (@Victoriavivace on Twitter)  
I've totally loved this series of Ambridge Extra - it's utterly gripping… ! (Francesca Heather-Hayes on BBC The Archers Facebook page)
Is it just me, or is Ambridge Extra totally KICKASS?? I love The Archers, but Ambridge Extra is a whole other love! And seriously, is Brenda MAD? Why is she giving up Dmitri? For what earthly reason would she do that after the man sincerely apologised and clearly loves her? Mad, absolutely mad. (Kristine Bolt on BBC The Archers Facebook page)
@BBCTheArchers Fabulous series! The best one yet! (@johnssinger on Twitter)
V V V sad that Ambridge Extra is over. Does anyone know when it will be back? Do we only get one a year because I don't think I can cope (@yarnstofabric on Twitter)
When's the next one? Please! (Stewart Arrandale on Archers Addicts Facebook group)
Tayler Cresswell is The Archers' social media host
Join the conversation
Or join the discussions on Archers fan forums: