David and Ruth Archer's spring-calving dairy herd has been hit by a highly-infectious disease known as IBR. Although most cattle recover from the disease, it causes nasty flu-like symptoms that can include coughing, fever, nasal discharge and conjunctivitis. So infected animals look pretty miserable. It's as if they have a nasty cold and chest infection.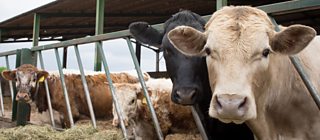 What is IBR?
IBR stands for Infectious Bovine Rhinotracheitis. The actual disease agent (BHV-1) is a virus similar to the human herpes virus, though it's a form specific to cattle. The virus can remain dormant in an animal for a long time which means infected animals can show no symptoms. However, at times of stress symptoms can appear.
What is its impact?
For the farmer the disease can have severe economic consequences, too. Milk production is likely to drop and the disease may well result in the abortion of calves and infertility. So while most infected cattle will recover, the profitability of the business can take a severe hit.
What happens next?
Once IBR has appeared in the herd all the farmer can do is quickly vaccinate all the other animals in the herd to slow or stop the spread of the virus, which is easily passed between cattle. What will be particularly worrying for David and Ruth is the fact that the infection is showing in their dairy herd which they bought last year. All of these cows would have been health checked before being purchased. They'll certainly be going through the farm records to find the documentation that came with the new cows.
The Brookfield family will be keen to boost their biosecurity measures on the farm – that is measures to reduce the likelihood of diseases getting onto the farm, and equally important, from spreading off the farm. Having contracted this virus in their own dairy herd the last thing they'll want is for their cattle-farming neighbours to become infected.
It's a worrying time at Brookfield at the moment. They'll all be hoping they can deal with the virus quickly and with the minimum of fuss. The very presence of IBR is sure to raise doubts amongst their fellow farmers of David and Ruth's competence in running a healthy farm.