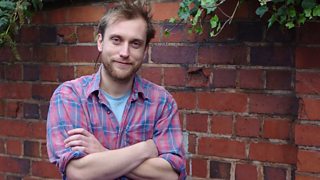 William (Will) Troughton has joined The Archers cast to take over the role of Tom Archer. Tom is the radio son of Tony Archer, who is played by Will's real-life father, David Troughton.
Will most recently performed in Private Peaceful, a one-man show at the Tobacco Factory in Bristol. Other theatre credits include The Ladykillers (West End & UK Tour) and The Woman In Black (West End). He has appeared on television in  George Gently, Doctors, Silk and Crimson Field, and in the feature film Armistice.
Will is from the third generation of an acting dynasty. His grandfather Patrick Troughton was most famous as the second incarnation of the Doctor in Doctor Who. Will's father David took over the role of Tony Archer in January 2014, following the retirement due to ill-health of Colin Skipp, after over 40 years playing Tony.
Will's older brother Sam is also an actor, well-known for Shakespearian roles.
Will said: "I was over the moon to get the part. I feel very privileged to be part of a great British institution. Everyone in the cast is lovely. It's like a big extended family. I don't really remember my first session in studio. It's like getting on a moving train. But it's very exciting and I'm really enjoying the challenge."
Until May 2014, the part of Tom was played by Tom Graham. The character left Ambridge in disgrace for Canada, after jilting his fiancée Kirsty Miller at the altar.
Archers editor Sean O'Connor said: "We'd like to thank Tom for his dedication to the role over many years, and we wish him the very best for the future.
"Will has made an impressive start. We saw several actors for the part and he was the one we felt could bring most to it, as Tom returns from Canada matured and changed by his experiences."
Cricket
Like his character Tom, Will is also a keen cricketer. The highlight of his cricketing career so far is facing former South African pace bowler Allan Donald (also known as  'White Lightning'). Will says he gloved one down the leg side for one run, which was given as a leg-bye.
Keri Davies is an Archers scriptwriter and web producer
Learn more about Tom and Tony Archer – and the actors who play them – in our Who's Who
Biographies from Wikipedia: Patrick Troughton, David Troughton, Sam Troughton