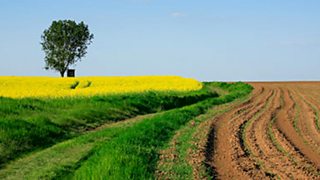 The CLA is the Country Land and Business Association.
DEFRA is the Department for Environment Food and Rural Affairs.
At its most simple Share Farming is where two farmers agree to work together to share the farming of an area of land.
They remain independent businesses, usually with the owner of the land providing the land, buildings and fixed equipment and the other farmer (the "operator") providing the labour and working machinery.
In the CLA we see this as a simple solution to one of farming's most pressing problems – that of an aging profile; and since we launched our campaign to promote it last year we have seen huge interest in this approach.
Latest figures from Defra show that 14,000 farmers in England are aged 65 or over – accounting for almost 25 percent of the total. More than half of the country's farmers are more than 55 years old.
We need to be doing more to encourage young people to get into farming, and to make it easier for those who want to leave the industry to do so at the right pace and in a way which means we don't lose all their experience and expertise.
Not many people find themselves as fortunate as David Archer and inherit land, or marry into a farming family. So what are the other options?
Purchasing a farm outright is expensive. Availability of land to buy is low and the price is high. A tenancy is pretty expensive too and the prospective tenant still needs to find the upfront costs.
The problem with traditional farming arrangements is that a farmer is either in or out. Many older farmers find it difficult to let go of what has in most cases been their entire life. Share Farming provides a middle ground whereby an older farmer, who may not be ready to retire or who maybe cannot afford to, can start to wind-down without having to worry about paying the bills.
Share Farming means that a new farmer can start farming without any capital or stock and can learn from the knowledge and experience of the owner. He can then build up his share by ploughing his profits back into the business.
The two share farmers bring different resources to the business in terms of assets and abilities and so may be able to create something bigger and better than either could alone.
Both parties share the risk and the profits on a pre-agreed percentage. It's not confrontational; once you have agreed the shares you are both on the same side in ensuring profitability. For anyone looking at succession issues and the implications of Inheritance Tax, like Brian Aldridge, the owner can still claim Agricultural Property Relief on his land.
Share farming may not be right for every situation, or for every farmer. However, it can provide real benefits to the landowner, the operator, and the industry as a whole.
Given the ever-changing dynamics within farming, we in the CLA believe it is vital for the future of the industry that new and younger entrants are given an opportunity to get a foot on the farming ladder.
We need smart land management techniques such as Share Farming that will provide social, environmental and economic benefits. If just a quarter of the country's farmers aged over 65 entered in to a share farming agreement it would allow more than 3,000 new entrants to start working the land.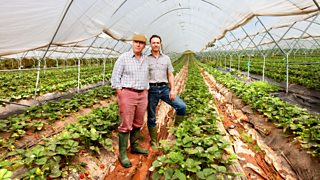 Brian and Adam - The Archers
Rhys Williams now owns a farm and has two further farms that he has a 50% share of – this is his story...
"Although not from a farming family my father worked for the NFU and my mother worked for the Ministry of Agriculture. We had a small holding and I just knew from an early age that I wanted to work in farming. I got a diploma in agriculture from college and then went to work as a herdsman on a dairy farm for ten years.
For a change of scene I went on a working holiday to New Zealand at it was here that I was exposed to Share Farming; I was impressed with how it was opening up opportunities for people who didn't have the financial backing to buy their own farm.
When I came back to the UK I became really disillusioned with farming and couldn't see a way that I was ever going to get any land of my own. In 2002 I went back to New Zealand and managed a couple of farms. The New Zealand system impressed me; low cost, Spring calving, all grass fed. After two years there I was planning to emigrate. I had to go back to the UK for a wedding and a chance meeting there with a farmer led me to move back to the UK in 2004. This farmer had an idea; he too had spent some time in NZ and wanted to experiment with Share Farming on his land. My terms were that I wanted to be in partnership and wanted to own my own cows. He converted his beef and sheep farm to dairy and installed a milking parlour.
In the beginning I owned 7% of the herd by 2007 I owned 50%. By 2010 we had fifteen hundred cows and I owned half of them.
The initial deal was that the farmer provided the land and machinery. I supplied half the cows. The farmer took 75% of the profit and I took 25% plus a management fee.
In 2012 I was then able to buy my own farm; plus I owned 50% of two share farms. I have gone from owning no cows in 2004 to owning a thousand cows and my own farm with twelve people working for me on the ground. Yes, I'm in debt, but there is nothing like huge debt to get you up in the morning and working long hours!
Share Farming gave me a fantastic opportunity that I really appreciate. At the beginning, for me, the risk was substantial; more so than for the farmer as he had more to cushion a failure. I had to plough all my money in to the venture; but I was hungry and eager to work 24/7."