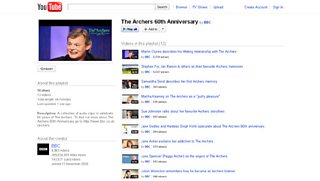 A slightly random selection of notes and links following our 60th anniversary...
Mary Cutler
Following the huge audience reaction to the anniversary episode, this week's scriptwriter Mary Cutler will write on this blog soon, explaining the thinking that went into the storyline, and the implications for the future.

Omnibus
The anniversary episode was double length, at 30 minutes long. But the broadcast version of this Sunday's omnibus edition is the standard length: 75 minutes. Because of this, Mary wrote some scenes (for the episodes later in the week) with the intention that they be cut in the omnibus. These so-called "omnicut" scenes used to be a regular feature in the days before the 75-minute omnibus was introduced, along with six slightly shorter episodes every week.
However, if you want to hear all the events in Ambridge this week, the complete 90 minute omnibus will be available to listen here on The Archers website.

YouTube
Archers editor Vanessa Whitburn and the actor Graham Seed were interviewed on BBC Radio 4's Today programme in connection with The Archers 60th anniversary. Both interviews are available on YouTube

YouTube also has a range of clips featuring famous Archers listeners talking about the place of the programme in their lives.

Blogs
The BBC's head of audio and music, Tim Davie, writes about the anniversary.
'...The reaction has spanned many emotions: listeners are angry, supportive, underwhelmed, overwhelmed, shocked, sad and enthralled. Above all, what is clear is that they care, deeply, about what happens in Ambridge...'


There's an interesting analysis of the online activity surrounding the episode from blogger John Fox.
'...It was, indeed, absolutely riveting. Whether that's from the perspective of the unfolding plot or simply the level of interest in the programme and its general storyline, or the sheer fascination of the speculation as to what would happen...'

BBC History
Find out more about the history of The Archers with The BBC Story.

Keri Davies is an Archers scriptwriter and web producer.
The picture shows the YouTube index page for the clips
Follow @BBCTheArchers on Twitter
Or for fuller-length discussion of the programme try The Archers message board