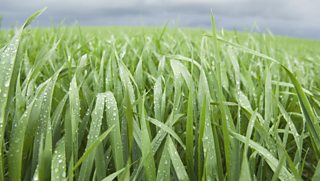 Never mind the barn burning down or strife among the Horrobins ... what about the real crisis in Ambridge?
The winter barley isn't ripe and the fields are waterlogged.
Like most of the arable farmers in the country, the good folk of Ambridge have been in varying states of despair about the grain harvest.
By now, combines would normally be rattling about all over the place, grain trailers would be hitched to tractors and Adam would be making inroads into the winter barley.
As far as I can discover, hardly anyone in the country has started combining yet, although a few brave souls took the plunge on Sunday (July 15). They soon took refuge in the tractor shed again.
Harvest is going to be later than most people can remember. It's not just that heavy machinery will make such a mess of the sodden ground, it's that there hasn't been enough sunshine and warmth to ripen the crops.
Annoying for farmers. Spare a thought, too, for the Archers production team. We write and record the episodes you hear a long time in advance (on Monday, for instance, we were discussing the stories that will run from mid-September).
And while I have many talents, long-range weather forecasting is not among them. So we've been busy. Combine harvester sound effects - goodbye. Scenes in a field of cut barley - begone. Last week we had to re-write and re-record nine scenes and make cuts in many others.

Remember that scene on Monday when David drove a trailer full of sheep into a ditch? Up until Friday it was a trailer full of grain. And there were plenty more like that.

It's playing havoc with our budgets, so you can imagine how happy we were to hear the news that the sun is going to shine next week. Maybe harvest will start in Ambridge in August? Watch this space.
Steve Peacock is The Archers' agricultural advisor.