The RSPB Big Garden Bird Watch
This weekend over half a million people, including a number of Ambridge residents, will be settling down by their windows for an hour to take part in the UK's biggest nature survey. The Big Garden Birdwatch, which has been run by the RSPB for 37 years, helps to build up a picture of how our garden birds are faring.
Find out how to give nature a home in your garden.
Cold weather makes it harder to find food in the wider countryside, where the ground is frozen and the berries have vanished from the bushes. But our gardens are oases for hungry birds. There tends to be plenty of plant cover, a ready food supply and, often, fresh water. So, many birds have adapted to garden feeding. Among these are a host of familiar species: blue tit, robin, blackbird, house sparrow. But Big Garden Birdwatch can bring a few surprises, for example winter migrants like bramblings.
The survey results always make interesting reading. In last year's top ten, the birds at number one (house sparrow) and two (starling), are both on the UK Red List. This means that their populations have fallen so much in recent years that conservationists are seriously concerned about them. Indeed, since 1979, when the Big Garden Birdwatch began, numbers of starlings visiting gardens have dropped by 80%. But it seems that gardens are providing a lifeline to both species. Through careful planning and planting, and provision of supplementary food when times are hard, gardeners can help to support these birds.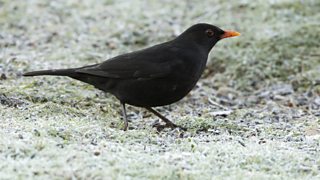 Blackbird - RSPB (Grahame Madge)
And it isn't all bad news. At number three last year was the blackbird, which was seen in over 90% of gardens. In recent years Blackcaps, smart looking Little Warblers, have began visiting gardens in winter more frequently. Historically they'd overwinter in Africa but, perhaps due to milder conditions and plentiful food in gardens, many from central Europe spend the colder months in the UK.
The Big Garden Birdwatch is also a great way to get younger family members interested in nature. Homemade bird cake or bird feeders fashioned from pinecones or old plastic bottles are great fun to make. You can find tips on creating feeders on our website.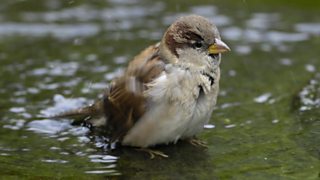 House Sparrow - RSPB (Ray Kennedy)
Most of us, even dedicated birdwatchers, rarely spend an entire hour watching the garden. So Big Garden Birdwatch can reveal interesting insights into what's happening outside your back door. The behaviour of the birds can be just as fascinating as the list of species you might find. For example, who is top of the 'pecking order' on your bird feeders? The bossy great tit? The sharp-billed nuthatch? Or does the great spotted woodpecker swoop in and send them all flying?
And which Ambridge dwellers do the garden birds remind you of? Are the chattery, gossiping sparrows: the Susan Carters of the bird table? Is Jean Harvey a jay, bursting in and stealing the limelight?
So why not join the Ambridge villagers in counting garden birds?..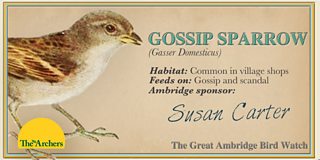 Archers Gossip sparrow ('gasser domesticus')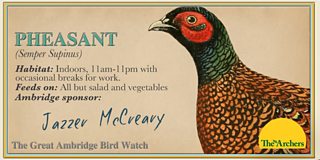 Archers lazy pheasant ('semper supinus')