The six ponies that appeared overnight at Ambridge Hall seem to have been abandoned or they could be an example of fly-grazing. It can be difficult to distinguish between the two as the RSPCA explains...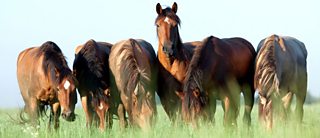 What is fly-grazing?
Fly-grazing is when owners of horses or ponies graze their animals on land without permission. In cases where the land is private this is illegal.
It's often hard to tell fly-grazed animals from those that have been abandoned. The dumping of horses and ponies and fly-grazing can be the result of owners running out of money to care for them or as an extension of neglect. They are also often associated with indiscriminate breeding, where uncastrated young males have been kept with mares.
Why is it almost always horses or ponies that are fly-grazed?
Horses are expensive to keep and grazing management takes a great deal of planning, especially with large groups of horses. Those who keep large numbers of horses but do not have a permanent place to keep them may move them from place to place to keep them fed for free.
Sometimes this is at the permission of the landowner, other times it is not and owners may place their horses on land that is easily accessed or without proper fencing.
How common is fly-grazing?
It is very difficult to know how many horses are fly-grazed at any one time. There was a spate of incidents after the 2008 financial crash when people struggled to afford to keep their animals. These days it remains a regular occurrence that welfare charities like the RSPCA, as well as Redwings Horse Sanctuary and World Horse Welfare, respond to.
What should you do if you discover fly-grazing?
If horses appear on land and you are not sure if they are being illegally fly-grazed or not, contact the landowner as soon as possible. Whoever owns the land can enforce the Control of Horses Act 2015 to remove the horses and take them to a place of safety.
According to the Act, landowners must notify the local police within 24 hours of moving the animals, and if the owners of the horses can be identified they must also notify them. Usually this is done by leaving a clear notice at the site detailing the Act and leaving clear contact details so they can claim their horses.
If no owner comes forward or can be identified within four working days, ownership transfers to the landowners who then need to decide what to do with the horses. Options include re-homing, selling, having the horses adopted by a local sanctuary or making arrangements for the horses to be humanely euthanised, however horse lovers and equine charities across the country hope this option would be a very last resort.
What if you find a fly-grazing animal that needs veterinary attention?
If one or more of the horses are showing signs of illness, disease, injury or neglect, you can call the RSPCA or a specialist equine welfare charity for help.
An inspector or field officer will visit the animals and if necessary call a vet immediately for treatment, or (if possible) speak with the horse's owner about appropriate veterinary care.
Animal welfare charities could only take the horses from the site if a vet confirms the horse is suffering. The police would oversee the removal of the animal and place it into the care of a charity.