'Paul's working free of his hinges' - listener discussions to 6 February 2013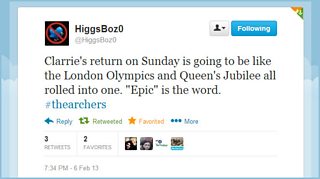 Post from @HiggsBoz0 on Twitter
Some listeners suspect all is not right with Paul Morgan, but many hope this story will come to a conclusion very soon.
Peggy's castigated for her reaction to little Bethany, and Alice and Pip cause shoutiness in households around the country.
Elizabeth's money problems and Clarrie's return have listeners wondering about longstanding family feuds.
And there's praise for this series of Ambridge Extra as it comes to a close.
Here's my pick of listener discussions on The Archers message board, Twitter and Facebook between 31 January and 6 February 2013.
Listeners are starting to cover their ears when it comes to Lilian's affair with Paul. And some suspect that he's hiding something… is he becoming just a little bit too controlling?
I love you Lilian but I'm more than just a tad bored with all this nonsense. Dump 'em both. #thearchers (@fairy_with_hair on Twitter)  
Paul's working free of his hinges. I did hear Friday's epi' and thought you're not being a mug, you're cloaking devious weirdness with sacrifice. It's all bound to go septic and poor old Tiger, Kindly Uncle Tiger, is going to have to sort it. (Feral_Ralph on the message board)
On the surface it looks like Lilian is calling the shots, but it's really Paul who is the puppet master! I am hoping for the complete glen close portrayal, bunnies boiling away on every gas ring in Ambridge etc. (irene on the message board)
I hope it has a really gripping ending but getting there has been never ending, it seems years ago since the floorboards and James's broken leg. (doraflora on the message board)
Cannot wait for the inevitable catastrophic fallout of the Paul, Lillian, Matt triangle, since Paul is definitely a nutter. #thearchers (@beckyblackbooks on Twitter)   
Before I go, I just want to say that Paul is NOT a stalker, he is Lilian's true love #thearchers #TEAMPAUL (@lordbothwell on Twitter)   
Read more on the message board thread: Paul the stalker is moving (back) in to his love's territory bit by bit, creepily does it.
Peggy was speechless when she met Mike and Vicky's daughter Bethany for the first time. And whilst listeners felt that her views were outdated, many were glad they were aired on the programme
#thearchers Peggy showing her usual Victorian attitudes when 'confronted' by a disabled child! (@voiceofbramley on Twitter)  
Vicky has to remember that Peggy is of the generation when in the main people found it embarrassing because children with Downs were never seen in public. (Lynda Everington on Facebook)
It is in great part a generational thing; credit to Peggy for having realised that she should probably have reacted differently. (Buntysdaughter on the message board)
The whole village does not need to tippy toe around Vicky and her Special Princess Bubbles all the time. If she insists on THRUSTING her baby at everyone, assuming they are 110% interested, she deserves to be put in her place. (Rettegrap on the message board)
Join the debate on the How old is Vicky? and Oh Dear! threads on the message board
When it comes to the younger generation, Alice and Pip have had listeners shouting at their radios. But is the writing on the wall for Alice and Chris?
Go on Alice. More to life than Ambridge. Look to Lillian, there's your future self if you stay. #thearchers (@hanikam on Twitter)   
Alice is thinking of a job upgrade and I wouldn't be surprised if that involved a partner upgrade as well. (fireupmefergie on the message board)
She is the spawn of Jennifer and Brian - so it's hardly surprising. (Poorgrass on the message board)
I wish Alice would stop moaning, she's got a great job! Lots of young graduates out there with no jobs, she's really starting to irritate me. Also Pip - very lucky her parents are still paying for her board while at Uni! So ungrateful! Glad I didn't grow up middle class (Laura James on Facebook)
#TheArchers Two words I never want to hear again SPENCERS PANTS and Pip don't call your mother HER!
@thearchers Good on Pip. Rickyard's empty so why not? Ruth thoroughly deserved all that. She's the most annoying mother of all #thearchers (@CandLycettGreen on Twitter)  
Have your say on the message board: What a spolt brat Alice is 
In other posts, will Elizabeth's search for £300,000 for Lower Loxley have her reviving the Brookfield inheritance row?
@BBCTheArchers All Elizabeth's money problems could be solved if only she had a big family farm to sell... (@50shadesofsci on Twitter)  
And as listeners await Clarrie's return, they think that perhaps it's time for Ed and Will to bury the hatchet
I think a BIG birthday is the right time to try and drum some semblance of civilised adult behaviour into Will. As a new generation of Grundys grows up it is up to parents to teach civilised behaviour by example (Threewellsofmyown on the message board)
Add your thoughts to the Well done Nic thread on the message board 
And finally, as this series of Ambridge Extra comes to a close, listeners discuss the goings on at the Vicarage
Michael is being acted with nice ambiguity. It isn't making me feel sorry for Amy, though, but I do think she's acting in character. As is Alan, jeez, what an irritating man. (Tadpole on the message board)
I'm actually glad it's finished, Alan's stress levels were tiring me out. (Stephen Āh Burroughs on Facebook)
I missed when Amy humbled anyone with her wisdom. #AmbridgeExtra I like Amy but "wise" is off the table for a least a year post-Carl. (@RadioAmbridge on Twitter) 
I'm thoroughly enjoying this storyline! It's well rooted in the reality of country parishes (or parishes everywhere come to that). Anyone who's spent any time in the CofE will have come across the vicar who has time for everyone except his own family. (Lyra on the message board)
Personally, I am enjoying this 'single story', concentrated, approach - though in this last series, I only enjoyed this last bit - though the dénouoment of the Horrobins was very good indeed. I am enjoying the experimentation, and I hope AmEx continues in that vein, and surprises us... (Bette on the message board)
I love Ambridge Extra and wish it was on all the time with stories that last a few episodes featuring a small group of characters. I really enjoy finding out more about them and it's going to leave a big hole in my week now. (Ruth from Stroud on the message board)
Read the Ambridge Extra discussions on the message board  
Tayler Cresswell is host of The Archers message board.
Join the conversation on the message board
Or chat about #thearchers and #AmbridgeExtra on Twitter  or Facebook