'Shula is in WAY over her head' – Listener discussions to 13 November 2013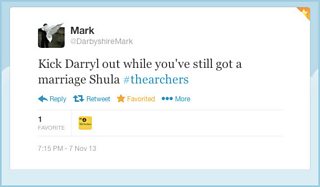 Post from @DarbyshireMark on Twitter
Darrell's story has dominated discussions this past week – almost to the exclusion of everything else.
In other news, listeners are looking forward to a panto showdown between Kirsty and Rob – or will she fall for his charms? Jill's failing eyesight is a worry; but it's all smiles for Joe as his cheque arrives – but some wonder whether he's cheered up a little bit too quickly? And have we discovered our youngest Archers fan?
Here's my pick of online discussions between 7 and 13 November 2013
Darrell's plight has elicited a huge debate about mental health, homelessness, his character, Shula's help/interference and what they should do next. Some listeners feel that they haven't invested enough in Darrell's character to really care about his problems and that it's doing a disservice to the issue of homelessness to have it depicted by a "blow in" character. Others say that they've experienced similar problems in trying to help others and that this storyline is all too realistic.
I never thought I'd say this but I'm starting to feel sorry for Darrell: Shula is SO not helping the guy, with her double-speak about leaving and then putting the decision-making and control into Darrell[s hands - someone who clearly can't make a decision and is out of control. (Margaret Lesley Gladstone on BBC The Archers Facebook page)
I think it will be very hard for any long term listeners of The Archers to empathise with Darrell… Darrell isn't connected at all---he's just a blow-in, and it beggars belief that Shula would get so involved with him---she doesn't have a history if taking in waifs and strays. And he was a whinging, unattractive character from the outset, without a single redeeming feature; you'd have to be Mother Teresa of Calcutta to care! (Nemo399 on the blog)
Shula is in WAY over her head. Darrel has some serious mental health issues--I'm hoping the new social worker can help. People are beginning to lose patience with and sympathy for Darrel because he seems so stupid and illogical. I think that's unfair to all the people who desperately need help. I've liked Darrel up until the last few episodes, and now I'm just tired of him. (Pattipeg Snyder Hario on BBC The Archers Facebook page)
Kick Darryl out while you've still got a marriage Shula #thearchers (@DarbyshireMark on Twitter)
Time to admit defeat. The situation is untenable (Di Smith on BBC The Archers Facebook page)
This storyline so closely mirrors something I went through while trying to help a friend it's almost too painful to listen too! Shula may have to realize as I did that there is nothing you can do to help Darrel! But I feel her pain that she doesn't want to just throw him out onto the street!! I truly hope Darrel finds the help he needs and accepts it! (Rachel Skinner on BBC The Archers Facebook page)
There are thousands of people in this country right now struggling with depression, in a downward spiral, with money issues, desperate to get out of the situation but then splashing out on alcohol or drugs when they have a few £s to dull the constant ache of despair and worthlessness… but that doesn't mean we should ignore them … despite what many seem to think, it's not so easy either to accept help or to help yourself when you're in that situation, even though it seems the obvious thing to do. I am very interested to see how the Darrell story will evolve but I suspect a very sad ending... Great job by the scriptwriters and very true to life. (Caz on The Archers blog)
Alistair's gambling past resurfaced in conversations about his chat with Darrell – should he have been more sympathetic?
How many months mortgage did Alasdair spend on the gambling?! Bloody hypocrite. #thearchers (@lidlkim on Twitter)
I think Alistair has remembered his own addiction that why he was spot on about Daryl. Surely the answer should be to get him back in the Elms. There will be people there who will have the skills to help him (Jane Anderson on Archers Addicts Facebook group)
Listeners were delighted at the prospect of a Kirsty v Rob pantomime showdown! Bring. It. On!
Hahahahaha a Kirsty and Rob duet! #TheArchers  (@AndromP on Twitter)
Will Kirsty succumb to Rob's charm? All the other women in Ambridge have! #thearchers (@PatrickFMay on Twitter)
We need a really rioutious conflicted panto don't we? (Barbara Bates on BBC The Archers Facebook page)
I'm waiting for Rob to push his luck too far with Kirsty so Tom can have an excuse to strangle the sleaze-bag with a string of sausages. (Nigel Cropper on BBC The Archers Facebook page)
I think Kirsty should publicly denounce creepy Rob as a cad and a bounder from the stage. #thearchers (@Andreamsmall on Twitter)
Lynda won't let either of them leave so don't worry, lots of squirmy, cringemaking tension for us listeners still to come.....the show must go on! (Lorna McLaren on BBC The Archers Facebook page)
In other posts, listeners enjoyed Peggy's appearance on remembrance Sunday as well as her birthday
@BBCTheArchers @BBCRadio4 #dumdidumdidumdidum aah #Peggy - haven't heard her for a while...glad she's still with us! #thearchers (@_GoodBookGuide on Twitter)
Glad Jack likes watching and listening to the birds. #thearchers (@potterwigwam on Twitter)
Happy birthday part of the war generation that goes on for ever! I know both parents similar age and still going! (Sian Spencer on BBC The Archers Facebook page)
There's some concern about Jill's failing eyesight
@BBCTheArchers Oh Jill get thee to an optician... We're all a bit worried -don't want another loose carpet incident! #Joe (@gilly38 on Twitter)
Come on David, Shula, Kenton, Elizabeth pay some attention to your mother! (Jane Anderson on Archers Addicts Facebook group)
And hoorah! Joe's cheered up after his compensation cheque from Grey Gables arrived.
Miraculous healing properties, cheques. Particularly where the Grundys are concerned.  #thearchers  (The Vintage Year on Twitter)
Now that's the Joe we all love .... welcome back, you've been dearly missed #thearchers (@nosila_63 on Twitter)
#thearchers So, that £3k has wrought miraculous changes on Joe, eh? Was he putting it all on then? (@lomelindi12 on Twitter)
And finally… have we discovered our youngest fan?
How to get the 3 yr old to bed: tell her @BBCTheArchers is about to start on her bedroom radio. She's up them stairs LIKE THE CLAPPERS. (@amandagriffkin on Twitter)
Tayler Cresswell is The Archers' social media host
Join the conversation
Or join the discussions on Archers fan forums: