Dame Eileen Atkins, Nigel Havers and Catherine Tate to deliberate over Helen Titchener's fate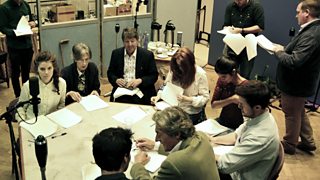 Eight actors were cast specially to play members of the jury in Helen's trial.
"There were three things I wanted to do as an actor… Play Max de Winter in Rebecca…Tick. Be in Coronation Street... Tick. Do an episode of The Archers... Big tick!!" (Nigel Havers)
An acclaimed cast including Dame Eileen Atkins, Nigel Havers, Graham Seed, Catherine Tate, Rakhee Thakrar as well as Aimee-Ffion Edwards, Tam Williams and Cerith Flinn will deliberate over Helen Titchener's fate as jurors in a special, extended episode of The Archers.
The much anticipated verdict of Helen's trial on Sunday night will come at the end of an hour-long Jury Special edition of the radio soap, allow time for the deliberation of the jurors at Borchester Crown Court. We will hear from eight of the jurors, the other three were not cast. The twelfth juror was dismissed during the trial for contempt of court.
Sean O'Connor, outgoing editor of The Archers, says: "To make up the jury, we assembled a fantastic cross section of British acting talent from radio, TV, stage and film led by Dame Eileen Atkins, Nigel Havers and Catherine Tate.
"It was a particular delight for me to ask Graham Seed to take part. I know many Archers listeners still miss Nigel Pargetter and it seemed fitting that in my last ever episode of The Archers as Director and Editor, I could offer Graham an appearance in the programme - without him actually turning up in the shower like Bobby Ewing in Dallas."
Graham Seed, who played Nigel Pargetter for 27 years, says: "How lovely to be asked back to be in this special episode. An honour! A very different character to play of course, and the challenge was not to sound like lovely old Nigel Pargetter. We had a busy day in the studio with a script hot off the press. And what a great cast of actors to work with."
The full jury cast includes:
• Dame Eileen Atkins (Creator of Upstairs Downstairs, writer of Mrs Dalloway, Vita and Virginia)
• Catherine Tate (Dr Who, Catherine Tate Show)
• Nigel Havers (A Passage to India, Chariots of Fire, The Charmer)
• Graham Seed (Nigel Pargetter in The Archers, Brideshead Revisited)
• Rakhee Thakrar (Shabnam in EastEnders)
• Aimee Ffion Edwards (Skins, Peaky Blinders)
• Tam Williams (Stage and TV actor. Played Nigel Havers' role in the recent stage version of Chariots of Fire)
• Cerith Flinn (Wolfblood, Strike Back)
The Archers Trial Week has been a rollercoaster of revelations and cliffhangers: Key witnesses have included Helen's five-year-old son Henry, who was present when she stabbed Rob; Helen's best friend Kirsty, who roused cheers from the court room for speaking her mind about Rob while called as a witness; Rob's mother Ursula who fiercely defended her son; and Jess, Rob's ex-wife, who was a surprise late addition to the Defence's case, offering valuable corroboration for Helen's account of Rob's abusive behaviour.
On Tuesday evening Helen revealed, for the first time, that Rob had raped her. While earlier in proceedings, Rob put on an Oscar-worthy performance of a broken man suggesting that he is, in fact, the victim in their marriage. The verdict now lies in the hands of the jury.
Sean O'Connor adds: "I have done jury service three times and found the process fascinating. Twelve randomly selected strangers have the power to make or break another individual's life. The reality, for me, was an extraordinary insight into who the British public are. On the one hand I met some amazing people who exhibited a depth of humanity and care about people they had never met, which I found deeply moving. At the same time, I also experienced the ugly, iron face of British prejudice; it was a real eye-opener.
"The stakes are enormously high for Helen. We know her and have been with her every step of her painful story. But how might it seem to an objective group who have not had that privilege? In many court cases the debate comes down to one person's word against another. I wanted to explore that process in The Archers, so a special episode focusing on the secret world of the jury room seemed a wonderful opportunity to do so."
This is the first time in The Archers' 65-year history that a single episode of the programme has been extended to a whole hour.
Settle back for a momentous night of drama.
Full details of Helen Titchener's Trial
'When it mattered most, Helen was the bravest she has ever had to be.'